Background: The well known tummy tuck or abdominoplasty procedure is most commonly used in women who have had abdominal shape changes due to pregnancy or some moderate weight loss. But since the era of bariatric surgery, large amounts of weight loss have created skin excesses who require modified forms of tummy tuck surgery.
Since the skin rolls often extend around the hips in extreme weight loss patients, a tummy tuck must go beyond its normal parameters to adequately remove it. Such an extended tummy tuck design can have an extension anywhere from the back of the hips to the whole way around the back. (known as a belt lipectomy or a circumferential tummy tuck) While these type of tummy tucks are extensive, the severe weight loss has made the tissues relatively thin and straightforward to manipulate.
More moderate weight loss patients (35 to 50 lbs for example) generate abdominal skin rolls but they are often thicker. Manipulating these thicker abdominal and back tissues is more difficult because the tissues are 'stiffer' and slightly hard to move. Liposuction is usually used concurrently with the tummy tuck to help thin the tissues and help create a better overall result.
Case Study: This 44 year-old female wanted to get rid of her abdominal overhang and narrow her waistline around into her back. She had lost about 50 lbs on her own with diet and exercise. She was now at a weight which she felt was comfortable and able to be maintained.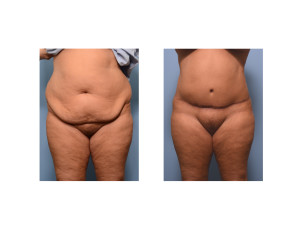 Under general anesthesia, she had a large extended tummy tuck done exclusively from the supine position. Liposuction was performed in the pubic region as well as the flanks into the back and the upper abdomen, removing 2.2 liters of aspirate.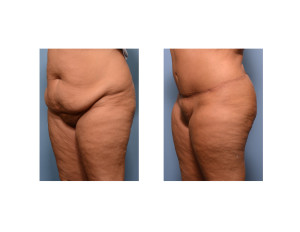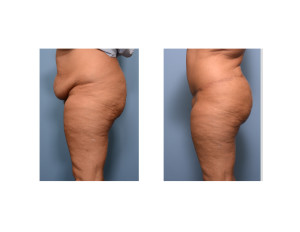 Her postoperative results at one year after surgery show a dramatic change in the shape of her stomach and her waistline. While her stomach was not flat, it was not predicted to be so before surgery. Her thicker abdominal tissues, which could only be modestly treated by liposuction due to safety concerns, as bound to leave her with an abdominal convexity above the the most narrow portion of her stomach at the waistline where her scar was located.
Moderate weight loss patients with thick skin rolls pose challenges in tummy tuck surgery that bariatric or more extreme weight loss patients do not. These thicker skin rolls require more extended incisions. Liposuction will have a impact on the size of the sin rolls and the wasitline shape but a secondary lipsuction surgery may still be needed to maximize the reduction in the subcutaneous fat layer. This is why, when possible, that patients should maximize their weight loss before undergoing tummy tuck when possible.
Highlights:
A conventional tummy tuck is often not enough to adequately improve abdominal rolls that extend around the waistline.
An extended tummy tuck is usually needed in women that have lost some weight but still remain with significant fat layers and skin rolls.
3. A extended tummy tuck removes skin and fat around the hip area into the back.
Dr. Barry Eppley
Indianapolis, Indiana