Augmentation of the facial skeleton has historically been done through the placement of preformed implants. The past decade has seen the emergence of a variety of injectable materials to create soft tissue volume augmentation. These have included a large number of synthetic fillers as well as autologous fat. As their use has become more common and pervasive throughout aesthetic surgery, the injectable approach has been applied to every conceivable aesthetic facial need including augmentation of the bony cheeks, chin and jaw angles.
An injectable filler can be used for jaw angle augmentation. It does not usually produce the same result as a well selected jaw angle implant as it can not create angularity and sharper definition with the push of a soft material like fillers or fat. Thus injectable fillers for jaw angle augmentation is often done as a test or trial or are sometimes performed as a convenient opportunity at the time of other facial surgery using fat injections.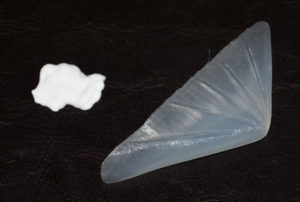 But beyond that of a trial, the use of injectable fillers as a long-term method of jaw angle augmentation is compromised by economic issues. When one compares the volume of an injectable filler to an actual jaw angle implant (in this picture 1.5cc of Radiesse to a medium vertical lengthening jaw angle implant) the tremendous discrepancy in its volume/size can be seen. By comparing weights alone it can be seen that it would take more than 5cc to 7cc of a filler to match the volume created by an implant.
Because of their long-term cost issues, injectable fillers are a short-term approach to jaw angle augmentation. This is not only because they are not permanent but the sheer cost of trying to replicate an initial jaw angle implant effect.
Dr. Barry Eppley
Indianapolis, Indiana