Facial asymmetry often involves the lower jaw. Since the lower jaw defines the border of the face to the neck, any differences between the two sides of the face can be clearly seen.  It is usually not difficult to determine which is the normal side and which is the affected side although this is ultimately determined by patient preference.
In cases of facial asymmetry caused by either excessive lengthening or a more inferiorly positioned bony half of the face, the inferior border of the lower jaw is too long. This is most clearly seen in a simple panorex x-ray where the entire lower jaw is laid out in a flat 2D fashion. It is also clearly seen in a 3D CT scan with a side view showing the different heights of the lower border of the mandible.
Removal of the lower inferior border of the mandible is done by a saw cut based on measured differences between the two sides. This usually needs to run from the chin back to the jaw angle. This bony cut is most easily done from a submental incision where it becomes a straight line with the best visualization. While this can be done from an intraoral approach, this makes it much more difficult and has a greater risk of injury to the inferior alveolar nerve.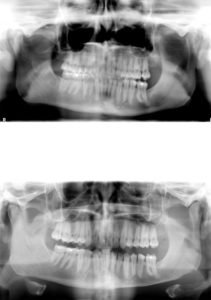 The straightness of the bony cut (mandibular inferior border shave) from a submental incision can be seen in this before and after x-ray assessment.
Dr. Barry Eppley
Indianapolis, Indiana