Arm lift or brachioplasty surgery had become very popular in the past decade, largely due to the preponderence of bariatric and weight loss surgery. While many women would like to have smaller and more shapely arms, liposuction remains the only surgical technique of arm reshaping in most non-weight loss patients due to the scar from arm lift surgery.
Arm lifts fundamentally involve a simple excision of skin and fat with the only nuance of how to orient the excision and the final placement of the arm scar. While plastic surgeons have various locations of the final scar (medial arm, posterior arm and posteromedial arm), one scar location over the other has never been proven to offer a superior scar result or less wound healing complications.
In the February 2014 issue of Plastic and Reconstructive Surgery, an article was published entitled 'Avulsion Brachioplasty: Technique Overview and 5-Year Experience'. In this paper, 44 consecutive armlift patients over five years were reviewed based on a treatment combination of liposuction combined with skin resection. The average amount of liposuction aspirate was 340ml per arm and a skin resection average weight of 90 grams. Their results showed no after surgery complications of hematomas or infection. Only one patient had a seroma. Half of the patients needed dressing care for wound dehiscences. Nine (20%) of the patients had a scar revision within the first year after surgery.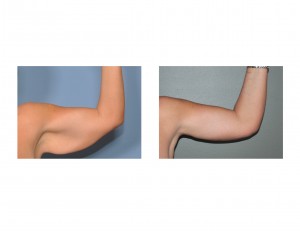 This article highlights to specific and distinct points about this arm lift technique. First, it demonstrates the value of doing liposuction to aid arm lift surgery. Besides helping to debulk the arm and making for a better reduction in its circumference, it also helps to better preserve the lymphatics and decrease after surgery swelling. With a lot of skin removal in the upper arm, a tight closure due to thick skin flaps can increase the risk of wound dehiscences.
The second important point is that armlift surgery is associated with a fairly high risk of minor wound dehiscences and scars that are unpredictable in their quality. This is due to the very thin skin of the upper arm which is unlike most other areas of trunk and extremity surgery. While all go on to heal without the need for surgical intervention, it it a process that can take up to 6 to 8 weeks after surgery to have complete incisional healing and the cessation of any suture extrusion. (spitters)
The location of the incision and the resultant scar in arm lifts, as this article as discussed, is best done in the posteromedial upper arm location. I have evolved to this location over the years as it offers the best aesthetic location between when one raises their arms or has them down at their sides. Being halfway between the side and the back of the upper arm, it offers the greatest amount of concealment in a location where the concept of a completely hidden scar is not realistic.
Dr. Barry Eppley
Indianapolis, Indiana