A face that has good skeletal contours, which some would call sculpted, is desired by many young men and women. The appearance of high cheekbones is one important element of achieving such a look. Cheekbones create a well-defined face by creating an upper facial prominence which makes the lower face look thinner. Such a facial look is seen as 'model-like' as is reflected in much of our society's advertising.
In performing cheek augmentation, there are numerous typical questions that prospective patients may have about the procedure. In my Indianapolis plastic surgery practice, here are some of the most common.
Q: I am afraid if I get cheek implants that it may look unnatural. I have seen some Hollywood people that supposedly have them and they look fake. Will this happen to me?
A: That is an avoidable result. In choosing the right cheek implant for any patient, three factors are considered…the selection of the patient, the size and shape of the implant, and properly positioning them  during surgery. Not every person will benefit from cheek implants, the whole face must be considered. Rounder and fuller faces are not usually good candidates. There are different styles and sizes of implants available. As a general rule, it is always best to not overdo them. A subtle enhancement is more aesthetically pleasing than being too big. The implant must be positioned and secured over the curve of the cheekbone that is most deficient.
Q:  I want higher cheekbones but do I need to have a scar to get that look?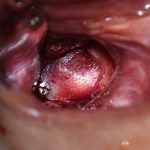 A:  All facial implants need an incision to be placed into the bone site. Surgical access to the cheek is done from inside the mouth high up under the upper lip so there is no visible scar.
Q: My face looks very flat. Do I need more than just cheek augmentation?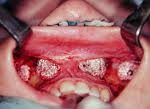 A: Some patients have more significant flattening of the middle part of their face that involves the upper jaw (maxilla) as well. While increasing cheek projection is helpful, that alone may not be enough. In this case, another set of implants can be placed along the paranasal area. (base of the nose) These two sets of implants can help bring out the entire middle part of the face into better balance with the lower jawline.
Q: What is the most common complication that occurs with this type of cheek surgery?
A: Implant asymmetry. Because cheek augmentation is a 'paired' surgery, both implants must be placed exactly the same. That sounds simple but slight differences in angulation and orientation of the implant may be able to be seen when the swelling subsides after surgery. This may require adjustment secondarily.
Q: How much time will I need off work to recover from cheek enhancement surgery?
A: Cheek implants will cause some obvious swelling but it is not significantly painful. Once can return to any type of work in one week but the cheeks will still be noticeably swollen. It will take at least two to three weeks after surgery before the cheeks will not so swollen and unnatural.
Dr. Barry Eppley
Indianapolis, Indiana