Of all custom facial implants made, the need for custom nasal implant designs is rare. They are so uncommon that in the near 1,000 custom facial implants I have ever designed and implanted, I have only performed a custom nasal implant twice. Due to the wide array of preformed nasal implants in both dorsal and dorso-columellar designs that are available in both solid silicone and ePTFE-coated and pure ePTFE materials, almost any aesthetic nasal augmentation need can be met.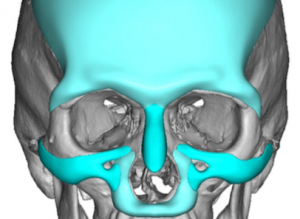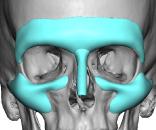 The one indication I have seen for its use is when a combined forehead-brow bone-nasal augmentation is being done. By joining with the glabellar portion of the forehead-brow bone implant a smooth transition and desired amount of augmentation into the upper nose across the radix and onto the bridge  can be achieved.
While it may be designed and manufactured as a single piece implant it is not realistic to place it as  such. Intraoperative placement is done by separating the nasal implant from the brow bone during surgery and putting them back in proximity through a combined scalp endoscopic approach from above and an open rhinoplasty approach from below.
Dr. Barry Eppley
Indianapolis, Indiana