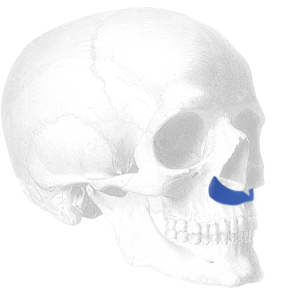 A central premaxillary region of the midface that lacks projection creates an appearance with a more acute nasolabial angle, recession of the central upper lip and even lack of nasal tip projection. Premaxillary augmentation has a long history in rhinoplasty surgery in certain ethnic noses to improve the nasolabial angle relationship but can also be performed alone when there is no indication for nasal surgery. Premaxillary implants sit over and augment the anterior nasal spine and anterior rims of the pyriform aperture. Based on how they are placed/modified they can have a more limited central effect of the nasolabial angle or a broader nasal base augmentation.
1. Preoperative Consideration and Preparation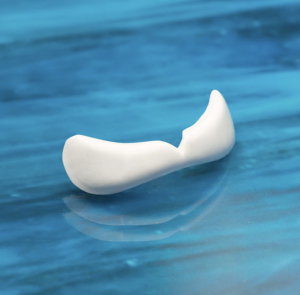 Preoperative computer imaging is essential to ensure that the patient's mid facial augmentation goals are in line with what is and is not possible with premaxillary augmentation. Such imaging is also important to determine how much premaxillary projection is desired. The ePTFE premaxillary implant comes in three sizes (small, medium and large) whose differences are in their side to side length (nasal base width) and thicknesses or projection.
Preoperative nostril width always need to be assessed  in any form of nasal nasal base augmentation as nostril widening can occur in some patients. If nostril width is not a preoperative concern then no adjuctive treatment is needed. If such concerns exists then either an internal alar base cinch suture or an internal wedge resection nostril narrowing procedure should be considered.
A.Sterile prep is done in the usual manner. (intraoral Peridex 0.12% chlorhexidine or Betadine gauze packing under upper lip)
B.Procedure can be performed under local, IV sedation or general anesthesia. 
2. Incision and Pocket Dissection
There are two surgical approaches to premaxillary implant placement, intraoral and intranasal. Both can be effective approaches and are their choice depends on each surgeon's experience/preference. Either approach begins with infiltration with a 1% Lidocaine and 1:100,000 epinephrine solution for hemostasis.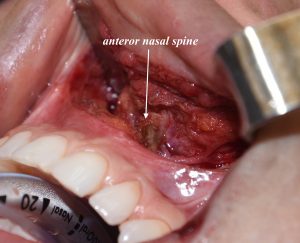 For the intraoral approach a central high vestibular incision is made under the upper lip over the nasal spine area. It is important that this incision is well above the gingivobuccal sulcus to ensure that an adequate inferior musculomucosal cuff of tissue persists for a two layer wound closure. Wide subperiosteal dissection is done along the nasal base ensuring that this dissection does not violate the nasal mucosa at the pyriform aperture.
For the intranasal approach, paired columellar base incision at the skin-mucosa junction. Using an elevator the anterior nasal spine and identified by feel and subperiosteal dissection widely done along the nasal base out under the nostrils. This is a more blinded pocket dissection than the intraoral approach.
3. Implant Selection and Placement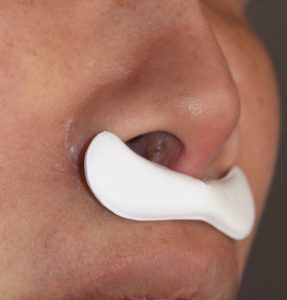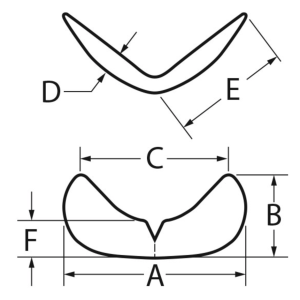 Made of solid ePTFE, Implantech's premaxillary implants are a 'moustache-like' shape with a small central upper notch. It is available in small, medium and large sizes. These sizes are fundamentally differentiated by lateral width thicknesses (D = 3.5, 4 and 5mm) as well as side to side length. (A = 4.5, 4.75 and 5cms)
ePTFE permxillary implants are easily customizable with a scalpel (#10 or #15 blade) to modify their side to side length, depth of the central upper notch or any of its edges. Besides making it fit comfortably into the width of the pocket it should fit well under the anterior nasal spine using the central notch.
Prior to placement of the implant it should  be washed/soaked in a betadine or antibiotic solution.
4. Implant Fixation and Closure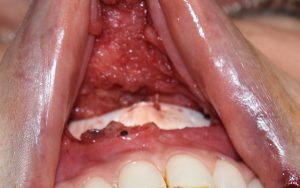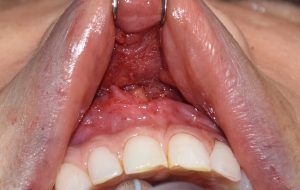 Fixation of the implant is not always necessary particularly when done from an intranasal approach. When done intraorally  fixation can be done of desired  by small screws or by placing perfusion holes through the implant for tissue ingrowth. Typically the limits of the pocket dissection and the tightness of the implant fit into it does not make firm fixation essential. If screws fixation is to the used a self-tapping 8mm screw is sufficient, one per side.
After irrigating the implant and its pocket with an antibacterial solution a two layer closure of the muscle and intraoral mucosa is done over the implant is done.
Summary 
A premaxillary implant provides a central nasal base augmentation effect that is often beneficial in the patient with a midface skeletal hypoplasia or recession. It helps push out and open up the nasolabial angle and adds projection to the central upper lip. Iy differs from the paranasal implant which adds projection to the base of the nostrils and out more laterally in the canoe fossa area. Its ePTFE material composition makes it very adaptable, easily placed and permits postoperative tissue ingrowth/fixation to its suffices.
Dr. Barry Eppley
Indianapolis, Indiana