Fat grafting is the primary surgical technique to soft tissue augmentation of the face. The addition of fat cells has the potential to add retained volume while the presence of adipose-derived stem cells offers the opportunity for tissue regeneration. Such tissue regenerative effects may be able to be seen in the overlying skin with an improved appearance and elasticity.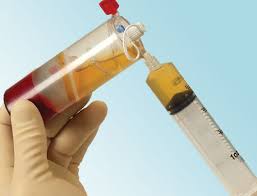 Efforts to improve the potential benefits of the adipose-derived stem cells in the fat graft have been based on graft concentration techniques. Another potential method has been the addition of agents to the graft concentrate that can cause cell stimulation. While no one single agent has yet been identified that can do so, the most theoretically promising is that of platelet-rich plasma.(PRP) As an autologous concentrate from a blood draw, it offers a rich source of growth factors that can be mixed with the fat concentrate and may aid the regenerative effects of the adipose-derived stem cells. While the addition of PRP to a fat graft intuitively seems to be beneficial, there are few clinical studies that have studied such a facial lipofilling combination.
In the February 2018 issue of the journal Plastic and Reconstructive Surgery an article was published on this topic entitled 'The Addition of Platelet-Rich Plasma to Facial Lipofilling: A Double-Blind, Placebo-Controlled, Randomized Trial'. In this paper the authors conducted a clinical study over three years in thirty-one (31) females who had facial fat micrografting done with both superficial and deep lipofilling on both sides of the face. The fat injected areas were then treated by secondary injection of either the saline (control) or PRP. Postoperative assessment was based volume retention at the nasolabial folds, skin elasticity, recovery time and patient satisfaction one year later.
Their results showed that the addition of PRP did not improve fat graft maintenance or skin elasticity improvement. PRP did, however, significantly reduce postoperative recovery time. This was judged by a quicker return to work and decreased time needed for the use of camouflaging agents for the post-injection bruising.
This clinical study of the potential value of PRP is hampered by the unknown question of how much concentration of it is needed. Since it is not a drug, no studies have ever been done to evaluate dosing. This is not to mention the various method/kits used to prepare it. Also should the PRP be mixed in with the fat graft or injected after the fat graft has been placed as the authors have done in this study.
How does platelet-rich plasma improve recovery after facial fat grafting? The hypothesis is it induces increased fibroblastic activity, increased collagen production and a stimulation of an enhanced inflammatory response.
Dr. Barry Eppley
Indianapolis, Indiana