The management of adherent scars or scar contractures are difficult problems. to improve. Like all scars the tissues are not normal and many scars have an actual tissue deficiency as part of their makeup. Traditional surgical approaches include excision, geometric skin rearrangements and skin grafting. Non-surgical injection treatments include steriods (Kenalog) and 5FU as a pharmacologic approach to soften the scar tissue.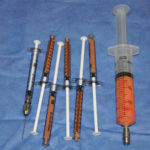 Autologous fat grafting has become an extremely popular procedure for a wide variety of soft tissue augmentations. While the survival of the injected fat is far from an assured outcome, some fat take almost always occur. This technique has proven its worth in such pathologic conditions like irradiated tissue where it helps improve the quality of the tissues through improved blood flow and adding new tissue volume.
In the online edition of the September 2016 issue of Plastic and Reconstructive Surgery, an article was published entitled 'Effectiveness of autologous fat grafting in adherent scars: results obtained by a comprehensive scar evaluation protocol'  In this report the authors study the effects of fat injections on adherent scars to determine if a single treatment of injected fat could create a functional sliding layer underneath the scar. Forty patients with adherent scars received fat injections and were measured before and at three months after the procedure. The primary outcome parameter was scar pliability as measured using the Cutometer device as well as patient and observer assessments. The Cutometer showed a 22% improvement in elasticity and a 15% improvement in maximal extension. Both patient and observes felt the scars were better. Color differences between the scar and normal skin did not change.
Many plastic surgeons have used fat injections to treat problematic scars and they have experienced variables level of improvement. Some have undoubtably seen cases of very good improvement as have I. This is the first study that has quantitatively documented the benefits of fat injections on this type of scar. The improvement in the scar undoubtably comes from some restoration of a tissue layer under the skin. (subcutis) Of equal interest is that this tissue response to the injected fat occurred after a single treatment.
Dr. Barry Eppley
Indianapolis, Indiana