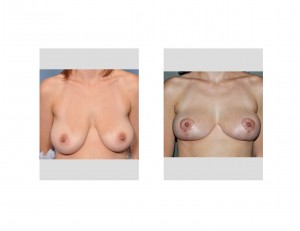 Breast lift surgery has been around for almost a hundred years in a variety of different excisional patterns based on the amount of breast sagging. While the initial breast lift results can be very satisfying, many long-term results have lost some of that early luster. This is caused by the so called 'bottoming out' effect due to loss of tissue support from the lower pole of the breast. What holds up the breast tissue is the skin envelope which is very prone to stretching on the lower half of the breast. This can allow the breast mound to relax or fall over the lower lower breast fold. This always results in loss of upper pole fullness which will mar any long-term breast lift result.
Adding support to the lower pole of the breasts during a breast lift procedure has been done with a wide variety of methods. These have included autologous methods using sutures to resuspend and support the lifted breast mound as well as repositioning/reshaping the breast mound itself. A number of mesh or slings of various materials have also been used, most recently allogeneic dermis (e.g., Alloderm) and synthetic fibers. (e.g., Siri) All have been associated with a variety of successes and also complications. (e.g, infection) The perfect breast lift material/method remains to be developed and/or determined.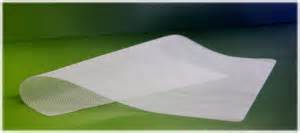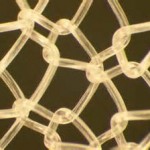 GalaFLEX mesh is the newest material that has become available for use in breast lift surgery. It is an FDA-approved material for soft tissue reinforcement. While synthetic meshes are not new, GalaFLEX is unique because it is completely resorbable. It is a knitted mesh that is composed of P4HB (poly-4-hydroxybutyrate) which is a synthetic polymer that is broken down by hydrolysis (water absorption) and eliminated as natural breakdown products of carbon dioxide and water over a time period of 12 to 18 months after implantation. But as it is resorbed it is replaced by collagen ingrowth that has been demonstrated to persist as a supporting scaffold long after the material has been absorbed. This has been reported to make the lower breast pole tissues up to 4 to 5 times stronger than they were before surgery.
GalaFLEX is currently available in typical mesh configurations which must be cut and shaped to provide the desired lower pole sling effect. Once shaped it is sutured into position onto the chest wall and acts like a cradle to support the lifted breast tissue. But new GalaFLEX shapes specifically for breast lift and/or breast reduction surgery are being developed that will make it more of an 'out-of-the-box' device that requires minimal manipulation of the material for proper placement.
The concept of adding support to maintain upper pole fullness and prevent/reduce secondary breast sagging has long been recognized as being needed for some breast lift patients. This support is always done the easiest by adding a graft or implant to achieve it. Whether GalaFLEX is the best choice out of all our current material options will ultimately be determined by the proverbial test of time.
Dr. Barry Eppley
Indianapolis, Indiana