The broken nose is the most common facial fracture and references to its treatment date back a thousand years. It is usually viewed as a simple problem that is easily fixed by  trying to push back into place the displaced nasal bones. But the reality is that nasal fractures are underdiagnosed and untreated and there is a much higher incidence of secondary deformities from them that is appreciated.
In the January 2017 issue of the journal Plastic and Reconstructive Surgery a paper on this topic was published entitled 'Improving Results in Closed Nasal Reduction: A Protocol for Reducing Secondary Deformity'. In this paper the authors looked retrospectively at 90 patients who underwent closed reduction of nasal fractures over a seven year period using a standard protocol. Postoperative deformities occurred in 16% of them with persistent displaced nasal bones and avulsion of the upper lateral cartilage as frequent secondary deformities.
Nasal fractures can be classified into four categories; type 1 unilateral bone fracture, type 2 bilateral nasal fractures, type 3 comminuted bone fractures and 4) combined nasal bone and septal fractures. Making the proper diagnosis is important and types 1 through 3 can be treated by closed reduction only. But a type 4 nasal fracture may require more of an open approach. Treatment of nasal fractures by closed reduction can be done under local anesthesia but many patients will find it more comfortable and better results may be obtained under deeper forms of anesthesia.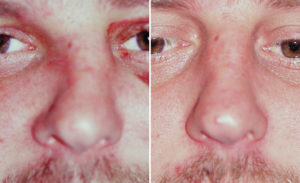 The closed reduction protocol initially consists of initial mucosal vasoconstriction with Afrin packing. The Boies straight elevator is used as a bimanual technique for elevation and repositioning the nasal bones. The Asch straightening forceps is used reposition the deviated septum followed by septal splinting. Once nasal bone and septum displacements have been reduced, nasal packing with vaseline gauze is done. Externally the nasal bridge is taped and splinted. Because of the nasal packing patients are placed on oral antibiotics. The nasal packing is removed by 3 days after surgery. The tapes and splint are removed after one week.
The closed treatment of nasal fractures is not complex. But it is also not as simple as just 'popping the bone(s) back in place'. Most nasal fractures don't have just one large piece of bone displaced, the bone fractures are typically comminuted. A more through bimanual reduction and applied support afterwards helps reduce the historic high incidence of secondary deformities and the need for further nasal surgery.
Dr. Barry Eppley
Indianapolis, Indiana