Making a face more square or angular can be done through bone augmentation, fat reduction, or both. I have found that there are two types of patients who come because they want a more defined facial look. First is the male patient (usually younger)who does not necessarily have a full or fat face but wants more definition at the defining points of the face. In some cases, I call this seeking the 'male model look'. The second type of patient is male or female who does have a fuller face and simply wants to be 'less round'. Their goals are not quite so precise as the first patient. Usually they are younger as well but can be middle-aged also.
The defining bony points of the face are the cheeks, chin, and jaw angles. (c = chin, ch = cheeks, ja = jaw angles) Facial fat points are the cheeks and neck. Those searching for the 'male model look' are usually looking at the trio or combination of cheek, chin and jaw angle implants.  The thinner the face is, the more profound the result will be with this triple implant approach. When you are placing three implants, or simultaneously changing three facial prominences, it is always best to not to overdo it. Large implants in all three places can create a very unnatural or artificial look. Cheek implants never look too good if they are too large.  Subtle cheek changes are more natural.The proper size of a chin implant is easier to know because the amount of chin deficiency can be measured in profile. Most men should consider a more square chin implant style as that is often what this type of patient is trying to achieve. Jaw angle implants can rarely be too large as they are manufactured small anyway and the jaw muscles and thickness of tissue over the jaw angles can camouflage a great deal of the implant.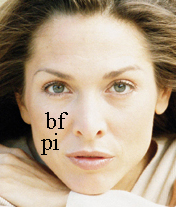 Those trying to deround a face must use a different approach. Fat removal in the neck (liposuction) and in the cheeks ( bf = buccal lipectomies, pi = perioral liposuction) are an important element of derounding and is often done with a chin implant. In rare cases, cheek implants may be considered but they should be small as buccal fat removal will create the visual impression of some minor cheek augmentation as the area below the cheek moves inward. This type of facial derounding is more subtle than squaring a face with the most dramatic changes occurring in the neck and less in the cheek and side areas of the face.
Careful analysis of the face prior to surgery through computer imaging can be invaluable in this type of surgery. Changing multiple areas of the face at one time, with the objective of changing one's facial look, requires good insight and understanding between the patient and their plastic surgeon.
Dr. Barry Eppley
Indianapolis, Indiana