PRP (platelet-rich plasma) has earned a role in a variety of facial rejuvenation procedures. One of its most well recognized uses due to social media and marketing is in the Vampire Facelift procedure. Its name is an obvious spinoff of the use of PRP which requires a blood draw to create the platelet concentrate. It is not a pure PRP procedure as it requires the use of injectable fillers to create the facial volume needed. In theory the PRP acts as a stimulant for soft tissue rejuvenation with its own growth factors and other stimulants…although that is far from proven science.
PRP injectable facial rejuvenation is an all natural treatment. There is no chance of allergic reactions or fear of foreign body interactions in response to these plasma concentrate injections. But what it is not is a facelift by any definition of this procedure. It does not reshape, tighten or otherwise involve removal of loose or sagging tissues as a traditional facelift does. Conversely it is a plumping procedure by adding volume through the use of the combination of PRP and hyaluronic acid-based fillers. The plumping helps stretch out some wrinkles and creates a bit of a tissue lift in some facial areas.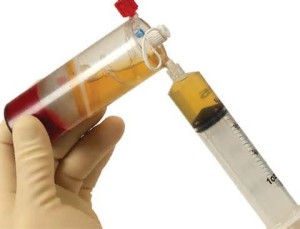 While PRP is known for its healing properties, its success in causing cell stimulation and rejuvenation in normal people to help 'reverse' or treat aging tissues is more speculative. Stimulating tissue repair in injured tissues is one thing, making the body create new cells to treat otherwise normal tissues, albeit aging ones, is more of a biologic stretch. But this is the contention of the Vampire Facelift approach. Inject PRP under the skin and the body takes it from there presumably generating new collagen from stimulated fibroblasts.
There is no question that these injection treatments are safe as they involve PRP and other well known injectable fillers. There is very little possibility of any untoward reactions and complications. It is just a question of how much skin benefit is obtained from injecting the plasma and platelets and whether it provides any longevity benefit to the hyaluronic acid fillers that are also simultaneously placed.
The injection procedure does create some mild bruising and swelling for a few days that, at its worst, completely resolves within a week after the procedure. With the use of blunt injection cannulas, the creation of bruising is virtually eliminated. The effects of volume addition are seen immediately, any tissue stimulation occurs much later. (weeks to months) Whatever tissue stimulation and growth that may occur from the injections is not known how well or long it will persist. There is no question that repeated treatments produce better results. Stacking two to four treatments several months apart will create the optimal facial rejuvenative effect.
Dr. Barry Eppley
Indianapolis, Indiana