Macrogenia or aesthetic large chin deformities present with numerous dimensional excesses. While most people think of a large chin as one that sticks out too far, a chin that is too vertically is also common. In many women, who are most affected by chin overgrowths, their undesired large chin is a combination of both horizontal and vertical excesses.
In a chin that is exclusively vertically long two options exist for its reduction. The intraoral osteotomy approach consists of a mid-chin horizontal bony wedge removal of the desired height reduction with the reduced lower chin segment put back together with plates and screws superiorly. The external ostectomy approach consists of s submental skin incision where the vertical bone height is reduced by removing the desired height reduction of the inferior border of the chin.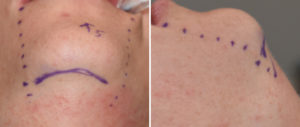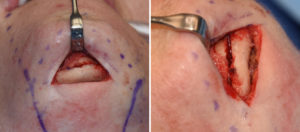 Vertical chin reduction by either osteotomy or ostectomy can be equally effective and each approach has its advantages and disadvantages. But one feature that separates them is what happens to the enveloping soft tissue of the chin. This becomes apparent in the submental chin reduction technique where the soft tissue degloving needed to remove the bone will expose a bi-level or step in the soft tissue once the bone is removed. The anterior chin pad, which remains attached to the reduced bone, will end up higher than the neck tissues behind it which do not change.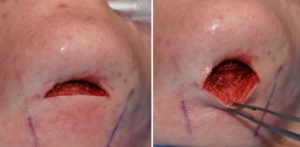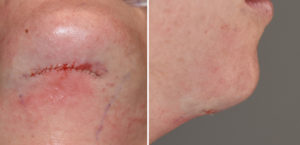 This soft tissue step, or newly created neck tissue excess, must be managed to avoid trading off one problem for another. This is done by removing subcutaneous fat and muscle and in doing so elevate the anterior neck tissues up to the level of the reduced chin.
Almost all submental chin reduction techniques, which offer more versatile bony changes than that done by intraoral osteotomies, will require soft tissue reduction as well. This is challenging due to the limitations of the limited length of the incision that can be used and kept aesthetically pleasing. It is usually what causes the need for secondary revision to manage any residual soft tissues redundancies.
Dr. Barry Eppley
Indianapolis, Indiana