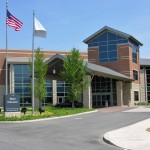 Joint Gynecological and Plastic Surgery makes Medical History at IU Health West Hospital with Dr Barry Eppley
Plastic Surgery is commonly performed as the reconstructive part of an operation with many surgical disciplines from General Surgery, Urology, Pediatric Surgery, Neurosurgery, Orthopedic Surgery as well as Obstetrics and Gynecology. It is rare, however, that cosmetic plastic surgery is done at the same time, on a different part of the body, with other surgical disciplines.
Such was the case on December 19, 2007 at IU Health West Hospital in Avon, Indiana. A 45 year-old female underwent a combined Gynecologic and Plastic Surgery operation. Dr. Kelly Kasper of IU Ob-Gyn performed a laparoscopic hysterectomy. During the one hour that it took her to complete the procedure, Dr Barry Eppley performed cosmetic surgery of the eyelids including removing excess skin and fat and tightening of the lower eyelids with a chemical peel. (lower eyelid lift) Both Gynecologic and Plastic Surgery were done at the same time in a one hour time period.
While neither operation is unusual, performing both at the same time is and, in my experience, has never been done at the same time before. Such coordination between surgeons allows wonderful benefits to be gained by patients in a cost-effective manner.
Dr Barry Eppley
Indianapolis, Indianapolis