Fat grafting of the face through injection has become a standard therapy for many facial anti-aging and reshaping surgeries. The placement of processed liposuction-derived fat has been well known to result in an improved skin appearance. There was initially some debate as to whether this was just a temporary effect due to swelling or whether actual skin rejuvenation occurred through the stimulation  of stems cells in the fat.
It is believed that adipose-derived stromal and stem cells (ADSC) in autologous fat can create regenerative changes in facial skin when into the dermis and subdermal layers. This would be most useful in the thinner skin around the eyes and mouth which is a frequent location of skin wrinkles which are hard to improve by any method other then laser resurfacing.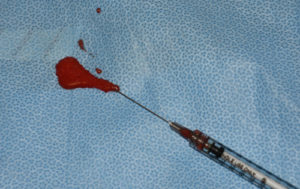 In the January 2017 issue of the Aesthetic Surgery Journal the paper entitled 'Skin Rejuvenation and Volume Enhancement with the Micro Superficial Enhanced Fluid Fat Injection (M-SEFFI) for Skin Aging of the Periocular and Perioral Regions' was published. This 65 patient clinical study looked at the efficacy and viability evaluation of fat harvested with extremely small side port (0.3 mm) cannulae without further tissue manipulation for the correction of aging/thin skin in the periocular and perioral regions. The results were evaluated by histological and cell culture analysis as well as retrospective clinical assessment by a 1 to 4 rating scale.
Their results over a one year period showed no intraoperative complications or visible lumpiness/irregularities. Histologic analysis showed mature viable adipocytes with a strong stromal component. At one month after injection clinical improvement was rated at around 3.5 out of 4. At six months after injection the clincial assessment dropped to 3 out of 4 or less. Following the addition of platelet-rich plasma (PRP) to the injectate,  there was a greater proliferation noted in the M-SEFFI compared to the SEFFI (0.5 mm).
The authors conclude that M-SEFFI is effective and results in lump free skin rejuvenation and volume enhancement. The extraction of smoother stem-cell rich autologous fat tissue is useful in correcting the fine lines of facial skin aging.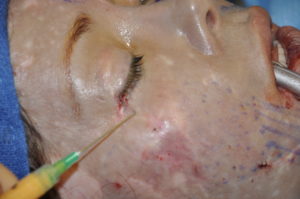 M-SEFFI is what is also known as nanofat. This is the liquid residual that remains after the concentration of liposuction-derived fat grafts. It can be injected alone or mixed with PRP. Either way its thin consistency allows for it to be injected through a 30 gauge needle into the dermis, unlike more traditional fat injections. This study is limited by the short-term followup and it does not conclusively prove to me that it really causes a true skin rejuvenation effect. But it is a completely harmless technique whose theoretical appeal can not be denied. And it is the only type of fat injection that is thin enough to be placed directly into fine wrinkles.
Dr. Barry Eppley
Indianapolis, Indiana