Nostril narrowing, also called nasal base reduction, is a common adjunctive procedure in rhinoplasty. Once the tip of the nose is narrowed or elongated the width of the nostrils may then appear too wide. As the final step in the rhinoplasty procedure the width of the nostrils is assessed and narrowed if so indicated.
There are numerous descriptions of nostril narrowing techniques which can be done externally or internally. The external method involves soft tissue excision (nasal sill and nostril tissues) while the internal method using a subtler cinch suture technique. By far the external nostril narrowing methods are most commonly done and work because they are excisional. The alar cinch suture is probably best known with its use in LeFort osteotomies to prevent nostril widening which can occur because of the loss of nasal base attachments from the complete subperiosteal midface tissue elevation.
In the May 2020 issue of he European Journal of Plastic Surgery, a paper entitled 'The Cinch Suture Nasal Sill Excision Combination Technique for Nasal Base Reduction in Rhinoplasty'. In this three year clinical study of twenty-one (21) consecutive primary rhinoplasty patients with one year followup the authors used a combination external tissue excision with internal alar cinch suture for their nostril narrowing procedure. Indications for nostril narrowing were in patients with excess alar flare, large nostril size, or when the interalar distance is larger than the intercanthal distance. The cinch technique consists of a 4-0 resorbable suture that is passed behind the columella between the two alar margins and tied down. In doing so the elliptical nostril sill excisional edges are approximated so only skin sutures are needed for their closure.
Of all nostril narrowing procedures performed, there were no complications including relapse or hypertrophic scarring. All aesthetic results were judged to be satisfactory.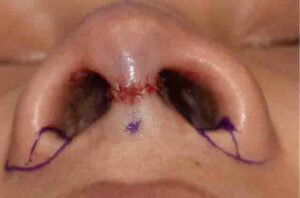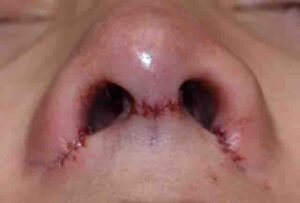 Combining the internal cinch suture with excisional nostril narrowing is a logical extension of the dermal suture fixation concept. Its greatest role is in eliminating the need for deeper sutures at the nostril skin/vestibular closure and assuring no relapse or adverse scarring in larger nostril narrowing patients.
Dr. Barry Eppley
Indianapolis, Indiana