Chest and Abdominal Liposuction, Six Pack Abdominal Etching, Nipple Lifts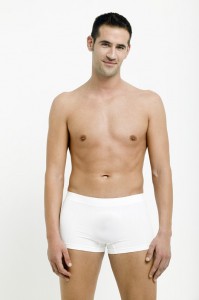 Dr. Eppley, thank you for your good work. My body looks awesome!  My six-pack is showing really well and I have the lines that I always wanted. The lipos got rid of that little lower stomach pooch and those pesky small love handles that I had. The nipple lifts gave my chest a big improvement. I'm getting lots of good comments and compliments again. Back on good diet and in gym. Still under pre-operation weight (was 157 pounds and now 152), but that should come up a little over time. I'm happy that I'm back to having 30"pants loose on me like a couple years ago. Still have just a little tube of tissue on the side of right chest, but interestingly it disappears if I raise back my right shoulder a bit. The entire process took me longer and was harder than I thought it would be…but it is all worth it now!
Richard W.
Columbus, IN
Commentary
Body reshaping efforts for men almost always involves liposuction. While for many men these liposuction efforts are primarily about 'debulking' and simply trying to get rid of too much fat. But there is a subset of men who are fairly athletic and lean and are having liposuction to create better definition and refinement. This type of liposuction could well be called liposculpture as this is effectively what one is trying to accomplish. These athletic males are trying to be more than just lean but to have a 'cut' definition of the chest and the abdominal area. Small cannula liposuction when done in a linear fashion can create the 4-, 6- or 8-pack abs that are very hard to get for some men no matter how much they exercise. Pectoral definition can be achieved by liposuction of the lateral triangle just below the outer border of the pectoralis muscle to create a concavity to better show the muscular border. In some men, particularly those who are a little older, the nipples can drift lower on the chest wall and be a little 'droopy. By doing a superior crescent nipple lift, they are very effectively moved up a little higher to remove the droop.
Dr. Barry Eppley
Indianapolis, Indiana