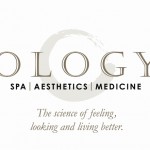 Plastic Surgery and Ology Spa Services at IU Health North Hospital
In Carmel, Indiana – Merging Medicine, Wellness, and Beauty
Since 2006, I have opened and operated the second location of the Ology Spa and my plastic surgery practice in the IU Health North Hospital in Carmel, Indiana on the northside of Indianapolis. Because of its wonderful design and beautiful exterior and interiors, a few comments about IU Health North Hospital are in order.
Situated on the main throughfare of the northside's bustling business community at the south end of Carmel, IU Health North is a full-service 170-bed community-based hospital which also serves as the north campus of the renowned Riley Hospital for Children, one of the founding three hospitals of the IU Health hospital systems.  IIU Health North offers a full range of patient care services providing exceptional care and service for the whole family. From its exterior limestone to the warmth of the interior hallways and all private patient rooms, IU Health North is a testament to the merger of art, healthcare, and a healing environment. Reconstructive plastic surgery is most visible in IU Health North as a complement to the Breast Cancer center for breast reconstruction, the Bariatric Center for body contouring after weight loss, and pediatric plastic surgery.
The design of IU Heaklth North and my Ology Spa facilities work very well together. Ology spa is situated just inside one of the main entrances of the hospitaland is lined with an all-glass exterior, revealing the large display of skin care and gift items. Ology spa design incorporates natural elements, such as bamboo flooring, water fountains, and organic colors. The facility has ample space for spa treatment rooms, offering massage, hydrotherapy and medical skin care, as well as plastic surgery consultation and treatment rooms.. Having both concepts in one facility, spa and plastic surgery, allows medical and cosmetic procedures to be done in a single location, enables a comprehensive approach to guest treatments before and after procedures, and allows higher-grade, more therapeutic skin and body product offerings.
Dr Barry Eppley
Indianapolis, Indiana