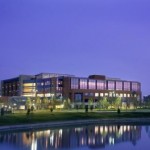 Joint Plastic and Hand Surgery at IU Health North Hospital
Over the past twenty-five years, I have had the opportunity to operate on hundreds of facial trauma patients and repair thousands of facial fractures. I have done so many over the years that I was a co-author on a major 1000 page textbook on facial trauma entitled, Maxillofacial Trauma and Esthetic Facial Reconstruction. Despite this extensive experience, I have never had the opportunity to do a facial fracture repair like I did last week at IU Health North Hospital in Carmel, Indiana.
I was asked to see a patient who fell at home while working and sustained fractures of his wrist and his face. When I saw the patient, his right side of his face was terribly swollen and his hand and wrist were in a cast. Working with an Orthopedic Surgeon, we coordinated a surgery for later that week in which we could repair both problems during the same surgery. Normally, surgeons may do their procedures during the same operation but rarely are surgeries performed concurrently at the same time. (we surgeons are territorial and like our space!) In an one and half-hour operation, this patient had his wrist and four facial bones repaired, not only saving him from having to undergo two separate surgeries on different days but cutting the normal time in surgery for these problems in half!
This joint effort provided a great service to the patient from which he was deeply appreciative.  While many complain about the inefficiency of modern medicine, this surgery case reminds me of its many benefits as well.
Dr. Barry Eppley
Indianapolis, Indiana