Background: The chin is a three-dimensional structure whose length, width and projection must be considered in any augmentation procedure. While an implant works fine for modest dimensional changes of the chin it does not work well for larger changes. This is particularly true when significant vertical lengthening is needed as this where the role of the vertical lengthening bony genioplasty has great value where 10mm to 15mmd can easily be achieved.
While the vertical lengthening bony genioplasty is very effective it does not address the outer dimensions (projection and width) very well or at all. In fact when the chin bone is considerably lengthened it will become more narrow in appearance as it moves away from the rest of the jawline. The stepoffs at the back end of the osteotomy cuts can also become more apparent as the two levels of the inferior border become more separated.
To create a total chin augmentation effect after a vertical lengthening genioplasty, which is often more needed in men than women, a custom implant design is needed. This is best described as an extended chin implant  that adds whatever additional horizontal and vertical increases are needed but, more importantly, a connection is made back along the sides of the chin beyond the step off onto the unaltered jawline. In essence this becomes a two stage chin augmentation with the implant acting as a topper to the bone lengthening.  
Case Study: This young male had a very vertically short chin for which he underwent a 12mm vertical lengthening bony genioplasty with an interpositional bone graft. This produced s very good aesthetic result for which he was initially pleased.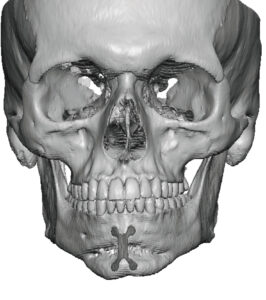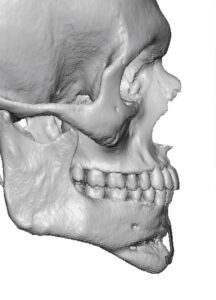 A 3D CT scan showed the bony chin lengthening with decent bony healing across the large interpositional gap. (due to the graft)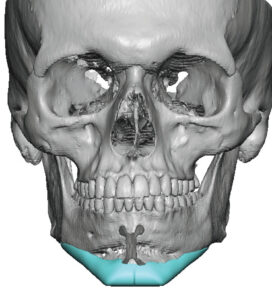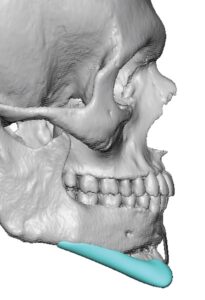 As he viewed his chin long term he decided that some additional horizontal and vertical augmentation was desired. Also he wanted a smooth connection to the jawline behind the chin. Using his 3D CT scan an extended chin implant was designed to address these additional three dimensional changes.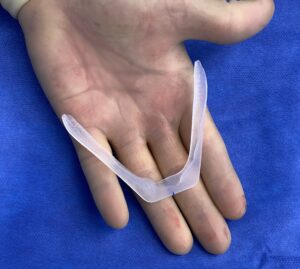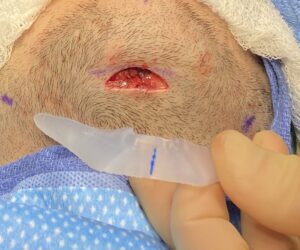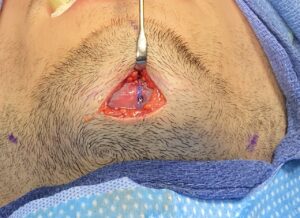 Under general anesthesia and through a submental incision the extended custom chin implant was placed uneventfully. A single midline screw was used for fixation.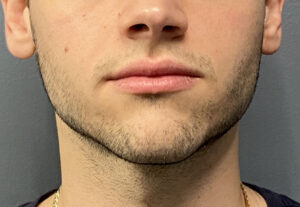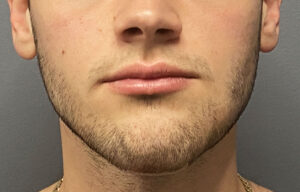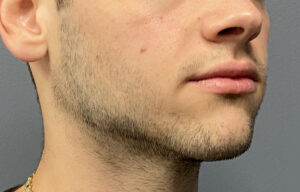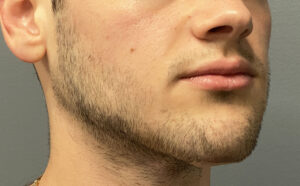 When seen the next day for chin dressing removal the improvement in the shape of the chin was immediately apparent.
Case Highlights:
1) Significant vertical lengthening of the chin by osteotomy can leave a chin narrow and without a smooth connection into the jawline behind it.
2) A custom chin implant after a vertical lengthening bony genioplasty adds chin width as well as eliminates any bony step offs between the chin and the jawline.
3) A submental approach to the placement of a chin implant after a bony genioplasty provides the best chance for good placement.
Dr. Barry Eppley
World-Renowned Plastic Surgeon