Background: Changes in the eyelids is one of the first signs of facial aging and continues unabated throughout life. Skin redundancies, wrinkles and fat herniation all develop in everyone to varying degrees and at various rates. Such age-related changes occur on both upper and lower eyelids although not equally so.
While upper eyelid aging usually results in skin excess or hooding, the lower eyelids disproportionately develop bags or herniation of the infraorbital fat pockets. This is what creates the puffy bags of the lower eyelids. When the fat herniation is considerable and the patient is older, a sharp transition can occur at the lower lid-cheek junction. The fat herniation stops inferiorly at the level of the infraorbital bony rim and the cheek tissues often sags below it. This can create a distinct line along the bony rim at this transition where the thin eyelid skin has little tissue between it and the bone.
There are many lower blepharoplasty strategies to manage the herniated fat and the excess skin. While aggressive fat removal has been the historic approach to lower eyelid protruding fat pads, the contemporary approach has been for more conservative fat removal and transposing the remaining extra fat over the rim. This introduces soft tissue coverage of the bony rim and helps smooth out the lid-cheek junction. But fat is not the only graft/implant option that can be used for infraorbital rim coverage.
Case Study:  This older male presented for rejuvenate upper and lower eyelid surgery. While he has redundant upper eyelid skin what was most pronounced was the large lower eyelid bags. He also had a lax lower eyelid margin with scleral show on the outer half of the lid margin.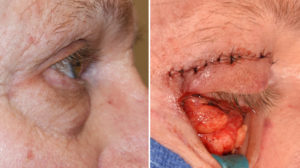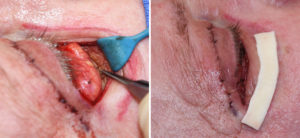 Under general anesthesia an upper blepharoplasty was initially performed. Then lower blepharopasties were done through subciliary incisions. A large amount of herniated fat was removed at the medial, central and lateral pocket locations. A 2mm thick piece of Alloderm (tissue bank allogeneic dermis) 4 cms in length was cut and placed over the infraorbital bony rims. It was placed under a subperiosteal flap of the raised soft tissue anterior and inferior to the  bone. Conservative skin removal was done (3mms) with orbicularis muscle resuspension and lateral canthopexies.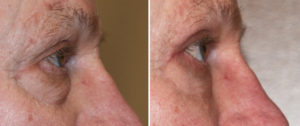 When seen at 6 weeks after surgery, the lower eyelids showed no further fat protrusion and an improved lid-cheek junction. The lower eyelids had no worsening in their shape with no lid retraction.
Improvement of the lid-cheek function in lower blepharoplasty is an important aesthetic component of the procedure. There are multiple maneuvers to make this improvement consisting of fat removal (superior reduction), skin excision and upward tightening (lifting and smoothing) and coverage of the infraorbital rim. (interface thickening) All have a contribution to improving the lid-cheek junction but the role of the interface material in more severe cases takes on a greater contribution. Fat is a logical and convenient material choice given its availability. Allogeneic dermis can also be used and offers a stouter interface graft material.
Case Highlights:
1) Large herniated infraorbital fat pads are common lowe eyelid aging issues in older men.
2) Herniated infraorbital fat pads are often associated with tear troughs and infraorbital rim visibility.
3) Treatment of the thin lid-cheek groove in lower blepharoplasty can be done with fat removal and placement of allogeneic dermal grafts on the infraorbital bony rims .
Dr. Barry Eppley
Indianapolis, Indiana