Background: The shape of the buttocks can take on many different forms. The buttocks have three different sections, the upper buttock, the mid buttock, and the lower buttock. Each buttock section has its own distinct shape. What separates the lower buttocks from the other two sections is the infragluteal fold. This fold makes a usually clear demarcation between the lower buttocks and the thigh below it.
The infragluteal fold or sulcus has been studied anatomically and histologically and has been shown to consist of strong fibrous bands extending from the underside of the skin (dermis) of its medial third to the ramus of the ischium and sacrum forming the letter J. The infragluteal fold, which attaches to both the ischium and the sacrum in a continuous fashion, is an anatomic structure in its medial part and only a crease laterally. It largely disappears in its lateral third as it approaches the outer thigh.
The infragluteal fold is one of the major concerns in reshaping of the buttocks. If an intact infragluteal fold exists with overhanging skin, then a lower buttock lift or tuck is needed. This is often called the butterfly lift if the central part of the buttocks sags with significant obscuring of the infragluteal fold. When the infragluteal fold is lost and the entire bottom of the buttocks sags onto the thighs with skin rolls, then wider excision of sagging skin with recreation of the fold is needed. It is important to remember that these excisional procedures only changes the shape of the lower buttocks and does not increase buttock volume or projection in any way.
Case Study: This 35 year-old female wanted to improve the shape of her buttocks. She was happy with her buttock volume and projection but felt the bottom had 'fallen down'. She had an intact and defined infragluteal fold but her lower buttocks sagged over it.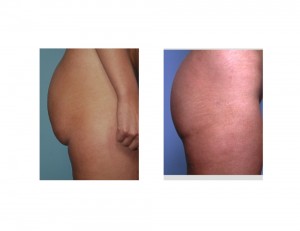 Under general anesthesia in the prone position, an excision was done using the existing fold as the inferior aspect. A predetermined and measured line has been previously marked in the standing position to serve as the superior incision line. This wedge of tissue was removed keeping it from extending out too far laterally. Deep dermal sutures attached the superior line down into the existing fold level to rid the buttock overhang.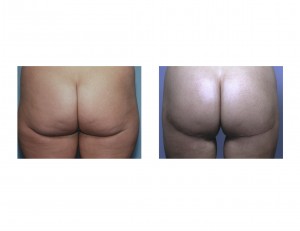 The lower buttock lift when there is an intact and well positioned infragluteal fold is better termed a lower buttock tuck. A true lift is when the nfragluteal fold is lost and has to be recreated.
Case Highlights:
1) Sagging of the buttocks takes on several forms depending on the location and prominence of the infragluteal fold.
2) A prominent infragluteal fold with overhanging lower buttock tissue creates a type 1 buttock ptosis deformity.
3) A lower buttock tuck removes overhanging tissue and creates a smoother transition between the buttocks and the posterior upper thigh.
Dr. Barry Eppley
Indianapolis, Indiana