While plastic surgery today is associated with images of rejuvenated faces and enhanced breasts and buttocks, its origins and history is associated with a bit more nobler objective. From the trenches of World War I came the need to reconstruct faces torn and shattered from warfare wounds. It was the absolute horrors of war that provided the stimulus for many of the modern-day aspects of plastic surgery.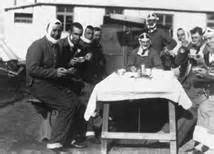 The most famous name associated with World War I facial reconstruction is that of an Armenian-American dentist and oral surgeon, Dr. Varazstad Kazajian. He was stationed at the Harvard Unit at Base Hospital No. 22 in France. During the war, Dr. Kazanjian demonstrated his skill at facial surgery, using his knowledge of dentistry to repair wounds, and rose to become head of Maxillofacial Surgery at the hospital. When the war was over, he continued to work as a surgeon back in Boston becoming the first Professor of Plastic Surgery at Harvard University. From the end of the war until he retired he developed new techniques for treating facial wounds and facial birth defects.
This year is the centenary of World War I and is the basis for an exhibition from the National Museum of American History. This online exhibition looks at American's entry into the war in 1917 and Military Hospital Life. Beginning in 1917, the National Library of Medicine will open an exhibit featuring patient and practitioner experiences at the military hospitals in World War I. This exhibition and website features the National Library of Medicine's collection of magazines produced by soldiers stationed in military hospitals in the United States during World War I. Over Here explores the work, lives, and recovery of personnel and patients at Army hospitals during and after the war. The exhibition centers on the experiences of the wounded and those stationed at US Army General Hospital No. 3, in Rahway, New Jersey.
While plastic surgery today encompassses a wide range of congenital, traumatic and cancer-related reconstructions, it is perhaps somewhat unfortunate that it is often perceived as only servicing the needs of those seeking cosmetic surgery. Thus it is easy to forget that much of the foundation of plastic surgery occurred behind the battlelines with efforts to aid those disfigured by war.
Dr. Barry Eppley
Indianapolis, Indiana