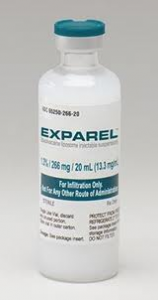 The use of local anesthetics is commonly done in numerous plastic surgery procedures for both immediate and prolonged pain relief. One such operation would be a tummy tuck where the rectus muscles are sutured together. This is the most common source of significant pain after the procedure. Indwelling pain pumps or the injection of long-acting Marcaine (bupivacaine which lasts up to 24 hours) into the muscle is commonly used to help control the patient's pain after surgery. While pain pumps can work up to 48 hours after surgery they are an additional tube(s) that exits the body and adds hundreds of dollars to the cost of surgery. Injected marcaine with epinephrine will last somewhere in the range of 18 to 24 hours but no longer.
Exparel is a newer local analgesic agent that combines bupivacaine with a unique liposome delivery vehicle known as DepoFoam. This is a multivesicular liposome that entraps the local anesthetic agent and slowly releases it as it breaks down over a few days after injection. This is why the solution looks white and flows like low fat milk due to the suspended liposome particles. This allows a single dose to have a duration of effect of around 72 hours or 3 days. A large number of clinical trials (21) evaluating over 1300 patients who had various surgical procedures were tested for both safety and effectiveness.
Exparel (bupivacaine liposomal injection suspension, 1.3%) has the potential to simplify postsurgical pain management by reducing the need for oral narcotics and/or pain pumps by delivering bupivacaine with a single injection. Better postsurgical pain management may potentially result in less discomfort and earlier mobility in the first few days after a tummy tuck which is the most difficult phase of the recovery. There are other potential applications in plastic surgery where such pain control could be beneficial as well such as breast augmentation.
Dr. Barry Eppley
Indianapolis, Indiana