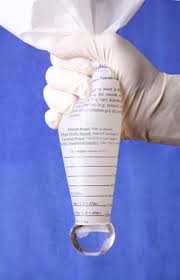 Despite the different types and sizes of breast implants and the different incisions used to place them, all these breast augmentation issues share one factor…implant insertion. With a prefilled and fully inflated silicone breast implant, there is increased difficulty in getting the implant into place because of the mismatch between the diameter of the implant and the length of the incision. Historically silicone gel implant insertion has been done by the manual method. The plastic surgeon must physically handle the implant and push it through the incision into the created submuscular or subglandular pocket. The actual handling of the implant by the surgeon adds another source of potential infection as well as stresses the shell of the implant as it usually needs to be 'forced' through the incision.
A novel breast implant insertion device is available that overcomes all of the concerns about manually handling and manipulating the implant. Known as the Keller Funnel, it is a cone-shaped device with an internal silicone lining. This allows the breast implant to be opened and placed directly into the funnel right out of the sterile box. Then by twisting the backside or larger end of the funnel, the silicone implant can be squeezed out of the end of the smaller end of the implant and through the incision right into the created breast pocket. The implant shell is less stressed as the forces of distortion or pressure on it are more evenly distributed throughout the entire implant shell. The silicone lining allows the implant to be lubricated so it can flow smoothly out of the funnel when under manual compression.
The Keller funnel is a significant advance for silicone breast augmentation. While it does add a very small cost to the procedure, it reduces the risk of infection and potentially even adds to the longevity of the implant's durability.
Dr. Barry Eppley