The ideal youthful breast has fullness in the upper pole, does not sag, and has a slightly pendulous lower pole. The slope of the upper pole should be slightly convex, straight, or slightly concave. With time, and gravity, many women lose that nice fullness in the upper pole, aging the breast and making it less attractive. In order to combat this problem, plastic surgeons have tried many different techniques in order to reestablish or make upper pole fullness.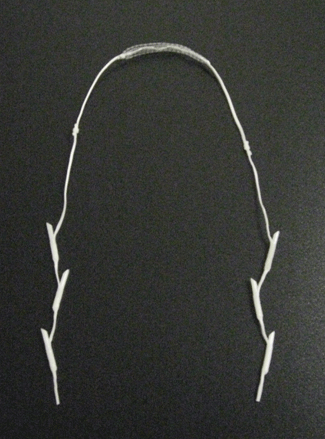 The Refine internal suspension system is a new device that has been developed an use with this problem in mind. The Refine system is a soft and flexible suture-mesh-anchor system that provides the soft tissue with internal support. It is made from medical grade polyester. It has been FDA approved and is indicated for the reinforcement of soft tissue.  The Refine system is placed percutaneously using specialized needles and is a two part system. The first part is the anchor utilizing a small piece of flexible mesh which is placed just deep to the pectoralis fascia. The second part using anchors which engage into the soft tissue, lifting the tissue up.  The two parts are then secured together, burying the knots deep in the soft tissue of the breast.
The most common use of the Refine system is for breast lifts in order to maintain upper pole fullness. When performing a breast lift or a breast reduction, with time, the breast tissue settlesor bottoms out and loses that upper pole fullness that many women want. By using the Refine system, plastic surgeons can permanently lift the breast tissue, maintaining that fullness for a more youthful look. The Refine system is not palpable and cannot be seen on mammography.

Plastic surgical experiences with the Refine suspension system in the breast have been promising and results have been maintained. Overall complications from this device seem to very low and patients report minimal discomfort after placement. This is an exciting new tool for plastic surgeons that is optimally used in conjunction with other breast procedures such as reductions, lifts and with fat injection breast augmentations.
Dr. Barry Eppley
Dr. Jane Namkung
Indianapolis, Indiana