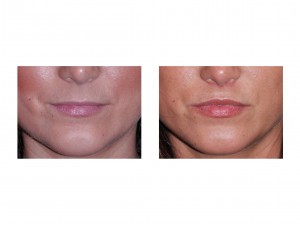 Surgical lip enhancements involve removing select areas of skin to increase the vermilion show of the lips or change the angle of the corner of the mouth. These are precise and measured amounts of skin removal that result in fine line scars either under the nose, along the lip edges or extending out from the corner of the mouth slightly.
The following postoperative instructions for excisional lip enhancement surgery are as follows:
1.  Lip lifts/advancements and corner of the mouth lifts have a minimal amount of postoperative discomfort. Few patients ever require pain medication and a few Tylenol or Alleve are all that most patients need for a few days after surgery.
2.  There are no dressings applied after lip and corner of mouth surgery. Only antibiotic ointment is used to keep the suture lines soft and supple, whose primary intent is to make suture removal eventually easier.
3. Be aware that your lips will get increasingly swollen over the next few days after surgery. This is normal and not a cause for concern. Lip swelling does not start to go down until three days after surgery and will take a week or two to go away completely. The use of ice packs on the lips is very useful the first day after surgery to control swelling and improve comfort. You may use them as long as you like. Corner of the mouth lifts have little to none of this after surgery issues.
4. The lips and corner of the mouth suture lines may get wet without any danger of increasing the risk of infection. So feel free to wash your face and shave (men) as needed.
5. The incision lines at the base of the nose (subnasal lip lift), lip lines (lip advancement) or corner of the mouth lift will have sutures that need to be removed in a week after surgery. (unless you are an out of town patient). Apply antibiotic ointment to them three times a day to keep them slightly moist. If any blood has accumulated on the suture lines during the first day after surgery, clean it off with a little water or hydrogen peroxide on Q-tips. There is no need, however, to use hydrogen peroxide on clean suture lines. Just apply the antibiotic ointment.
6. Your lips will feel a little tight when you open your mouth widely. That will take several weeks to a month to return to normal. You may stretch open your mouth and lips as much as feels comfortable. You may eat whatever you like.  Focus on liquids and soft foods for the first few days after surgery.
7. After sutures are removed and the incision lines healed (several weeks), massaging the lips and stretching them gently will help make them feel softer sooner and regain their normal suppleness again.
8.   You may return to any physical activity and work as soon as you would like based on your comfort level with pain and your facial appearance
9.   You may drive when you feel comfortable and can react normally and are off pain medication.
10. If any lip redness, tenderness, or drainage develops after the first week of surgery, call Dr. Eppley and have your pharmacy number ready.