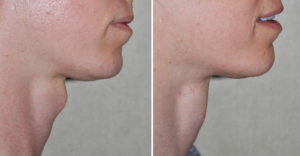 A tracheal shave or Adam's Apple reduction is the removal of the protruding portions of the paired thyroid cartilages that cover the larynx. This is done through a small horizontal neck incision directly over them in a natural neck skin crease. The cartilages are reduced by shaving or burring them down but without making them unduly weak or disrupting the attachments of the underlying vocal cords. How much reduction of the neck bulge that can be achieved highly depends on the thickness of the cartilages.
The following are typical after surgery tracheal shave instructions:
1)  Most tracheal shave procedures have virtually no pain after surgery. Patients usually only feel the need to use Tylenol or Ibuprofen for just a few days after the procedure, if any medication at all.
2) There  will be a flesh-colored tapes glued on over the incision. That will stay on for a week or so. It will either be removed by Dr. Eppley at the first postoperative follow-up (in town patients) or you may peel it off after a week for out-of-town patients.
3) There may or may be some spotting of blood on the tapes. This is normal and not a cause for concern.
4. The sutures used in the small neck incision are all under the skin and will dissolve on their own. There is NO need for suture removal.
5. You may shower and wash your hair as normal the following day. There is no harm in getting the  neck tapes wet.
6) There may be some mild neck stiffness and soreness when you extend your neck backwards after surgery. Avoid excessively stretching your neck backwards for a few weeks after surgery once the tapes are removed.
7) Once the neck tapes are removed, you may begin to apply any topical scar treatments if you desire.
8) There are no limitations to any physical activities after tracheal shave surgery. You may feel free to run, workout and do any non-contact sporting activity as soon as you feel comfortable.
9) There are no restrictions on what you can eat or drink after surgery. Swallowing has no adverse effects on neck healing.
10. If any neck redness, increased tenderness or swelling, or drainage develops after the first week of surgery, call Dr. Eppley and have your pharmacy number ready.