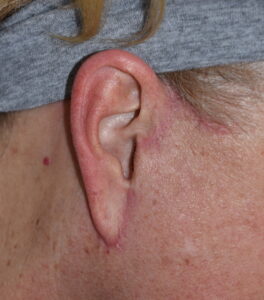 One of the most recognized aesthetic complications of facelift surgery is that of the pixie ear deformity. From the incisions placed in and around the ears for skin flap undermining  and repositioning, the removal of redundant skin and its closure can place tension on the earlobes. Since the earlobe is the only part of the ear that is not supported by cartilage should any tension be placed on it, it can become stretched out/pulled down during the healing process. This elongation of the non-cartilage containing earlobe is known as the pixie ear.
There are numerous techniques in facelift surgery that are specifically used to prevent such ear deformities. These include the use of SMAS flaps under the skin, where the tension is placed, and avoiding over resection of the redundant skin flap as it is repositioned up along the ear. These methods are very effective in preventing this type of earlobe deformity. But occasionally I will see another surgeon's facelift patient who has one or both pixie ears and the question then is what is the best method to correct it.
In the December 2020 issue of the Aesthetic Surgery Journal an article was published on this topic entitled 'An Update on the Posterior Earlobe/Concha Mastoid Suspension Suture to Correct "Pixie Ear" Following Facelift: Review of 40 Cases'. The authors had previously published in 2018 an article that described a preventative technique consisting of posterior earlobe rotation flap (PERF) and concha-mastoid suspension suture (CMSS) to correct pixie ear formation in revision facelift surgeries. In this paper s total of 25 secondary and 15 tertiary facelift surgeries were performed over a three year period. A combination of posterior earlobe rotation flaps and concha-mastoid sutures were used on each side of the facelift.
At one year after surgery no pixie ear deformities were seen. Auricular displacement was seen twice and hypertrophic scarring once. The total rate of earlobe deformities in this study, therefore, was 3.75% (auricular displacement: 2.5%; hypertrophic scarring: 1.25%). Based on their prior experience with the preventative benefits of PERF and CMSS techniques in primary facelifts, the techniques are also effective at restoring earlobe distortion in secondary or tertiary facelift cases.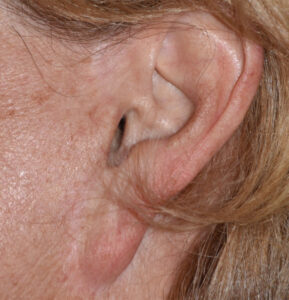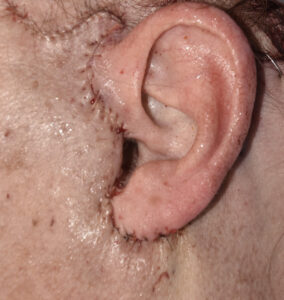 The correction of the pixie ear deformity is best done by redoing part or all of the facelift. There are other simpler techniques but they leave trailing scars by shortening of the earlobe and direct closure of inferior facial skin. To prevent pixie ear recurrence, the soft tissues need to be finely suspended. Suture the elevated skin flap to the conceal cartilage and/or mastoid fascia is a sound technique that I have used for years in all primary facelifts for this exact reason. The cartilage and fascia is lot more sturdy than ever putting tension on the less rigid earlobe.
Dr. Barry Eppley
Indianapolis, Indiana