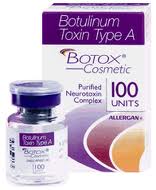 Botox is the most popular form of injectable aesthetic therapt. It has an established history of success in managing problematic facial movements that cause undesirable facial expressions and ultimately skin wrinkles. It was formally FDA-approved well over a decade ago for the treatment of glabellar (between the eyebrow) wrinkles lines and has gone on to receive a similar FDA-approval for crow's feet wrinkles as well.
Even though formal approval for other types of adverse facial wrinkles and expressions did not exist, Botox has been long been done 'off label' by just about every injector that has ever used it. Other aesthetic facial issues such as in horizontal lines across the upper nose (bunny lines), in the neck for platysmas bands as well for the downturned mouth corners, to name a few, are widely done.
Recently Botox was FDA-approved for the treatment of horizontal wrinkle lines. Long a companion injection site with that of glabellar wrinkle lines, it now official that it can be used in this facial area as well. It has been common to treat vertical glabellar and horizontal forehead lines as a combined injection treatment. I would say that it is more common to treat both areas together that it was to treat the glabellar area alone.
What does FDA-approval of this Botox use really mean? It really just substantiates what every injector has observed…that is both safe and effective for use in the forehead. Clinical trials reported by Allergan demonstrated that Botox injection was more effective than a placebo in reducing the severity of forehead lines.
Botox injections creates this forehead effect by temporarily weakening the frontalis muscle which runs vertically across the forehead. Less frontalis muscle movement softens existing deep wrinkles lines and prevents new ones from forming. Its duration of effect is the same as anywhere else on the face with an effect of three to four montyhs.
Dr. Barry Eppley
Indianapolis, Indiana