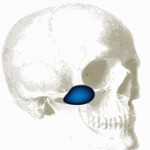 Cheek implants are one of the more common types of facial implants used for esthetic or reconstructive enhancement of the malar area. They are second in use only behind chin implants which are the most common implant placed on the facial bones. Like all implants, they have the potential for some complications such as infection, shifting and asymmetry, and poor sizing and positioning. Cheek implants also have a few unique complications as well.
Infection from any type of facial implant is possible but it is very uncommon. The extensive blood supply of the face and the implant's position at the bone under a muscle layer make infection uncommon. In the very few that I have seen, reopening the implant pocket, cleaning off the implant thoroughly and immediately reinserting it has always worked with smooth silicone rubber implants. Porous type implants are another story because it is not possible to rid the bacteria which are embedded in the irregular deep channels of a porous surface. Cheek implants made of these materials should be removed and replaced at a later date.
Cheek implants are unique from many other facial implants because they are positioned 'on the side of a cliff' so to speak, with no natural resting place. Only the soft tissue pocket developed on the bone becomes their containment method. Because a pocket must be developed that is bigger than the implant to allow it to slide into place without folding or bending of its edges, it is possible for cheek implants to slip around and be different between the two facial sides. This is probably the number one complication related to them….asymmetry. Persistent asymmetry over time can also lead to eventual migration of the implant down to and through the mouth incision which is commonly used for their placement. To prevent shifting of the implant after surgery, I prefer to 'nail' the implants into place with a small screw through them into the underlying cheek bone once the position I want is assured.
Aesthetically, cheek implants are often oversized in my opinion. What makes a significant change on the operative table can often be too dramatic to the patient later. The cheek is a unique three-dimensional facial unit that defies a precise measurement or method of implant selection. (the chin is very straightforward in this way) Computer imaging of the cheek, unlike the chin or nose, is more artistic than scientific and does not help in selecting a size or shape of a cheek implant. A subtle augmentation or increase in cheek size is almost always better. Don't try and make a cheek implant do too much. Fortunately, downsizing of a cheek implant is a simple replacement surgery that is much less traumatic than the original surgery. Re-entering the same pocket without extra dissection makes adjustment surgery usually easier.
Revisions of problematic cheek implants with a satisfactory outcome can usually be done by changing the size and shape of the implant or repositioning it with more secure fixation to the bone. Cheek implants, however, are highly critically assessed by most patients and meeting their aesthetic demands of size, shape, and symmetry make them one of the most challenging of all the facial implants for a satisfactory outcome.
Dr. Barry Eppley
Indianapolis, Indiana