There are numerous fat compartments on the face that can be surgically reduced. The most recognized and easily removed is the buccal fat pads. (aka buccal lipectomy) Located just under the cheekbones, it is a very discrete collection of fat that has its own pedicled blood supply and a surrounding capsule. It is removed from an intraoral approach through a small incision just opposite the molar teeth.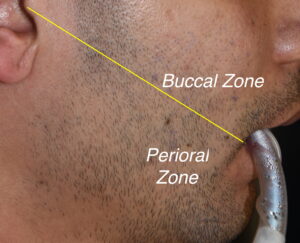 While the buccal fat is a large collection of fat compared to the rest of the face, it is frequently given more credit that it is due. Its removal affects the fullness of convexity of the cheek just under the cheekbones. It does not extend very low onto the face and its thinning effect will be relegated to the upper cheek area. If you drew a line from the tragus of the ear to the corner of the mouth, a buccal lipectomy has its effect above this line.
Below this drawn line sits another smaller collection of facial fat known as the perioral fat or, when bulging, the perioral mounds. This is a subcutaneous non-encapsulated fat collection that sits between the skin and the buccinator muscle. It is located at the southern end of the cheeks or its lower half. It has no anatomic connection to the buccal fat pad. In rare cases the buccal fat pad has been known to fall or prolapse into the perioral mound area.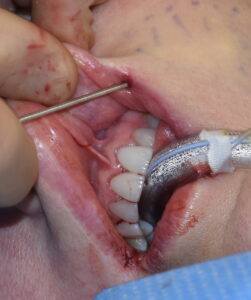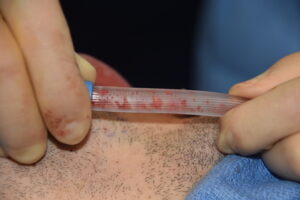 Removal of perioral mound fat is done by very small liposuction cannulas. It is never an impressive amount of fat that is removed but a little fat reduction does make for a visible external effect. It is a good companion to buccal lipectomies for a more complete cheek reduction/facial slimming effect.
Dr. Barry Eppley
Indianapolis, Indiana