The treatment of undesired tattoos is best done with multi-wavelength laser technology. By using different laser wavelengths for the colors of tattoo pigments, many tattoos can be successfully reduced and some even completely cleared. While the process is not quick nor inexpensive, it is the most successful method we have to date to treat tattoos without causing a lot of scarring an 'ghost imaging'.
Despite how far laser technologies have come, tattoo removal through heat particulation of the pigment particles is still an imperfect science. The different types of pigments used and the variable depths into the skin in which they may be placed, by both professionals and amateurs alike, make for different results for each patient. Many patients do not end up with the near perfect pigment clearance that one may find in promotional ads or on the internet.
As a result, there remains a subset of patients who will have residual pigments which still may make the outline of the tattoo discernible, even after numerous laser treatments. If a successful outcome is complete clearance, then ongoing laser treatments should be pursued. This may require going to another treatment site as the types of lasers used and experience in using them does vary.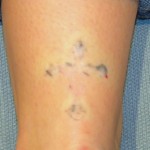 But for some patients with post-laser residual tattoos, they may not require complete clearance for satisfaction. Many patients want its recognition to be gone but can live with scattered pigment. As long as one can't see what the original tattoo was, this may be enough of a result. Particularly if they have tired of the laser treatment process.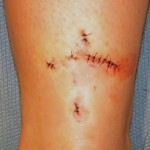 In select cases, tattoo 'derecognition' may be able to be achieved through spot or minute removals of residual pigments that lie along its outline. While one is trading off some small scars for the pigment removal, this may be the only way to get rid of them. There is usually a reason such areas have been refractory to the laser and it is likely due to the depth of the pigment location. Simple surgical excision under local anesthesia can provide an immediate solution that is quick and easy to do.
Surgical removal rarely has a role in tattoo removals, unless they are very small, However, in spot areas that are resistant to laser treatments, minute excisions can be useful for further obscuring of tattoo outlines. In my Indianapolis plastic surgery practice, I find this approach to be occasionally useful for certain tattoo patients that is more cost-effective than ongoing laser treatments. 
Dr. Barry Eppley
Indianapolis, Indiana