Some have said that the power to slow down aging or to 'heal thineself' does not come from some external source such as potion or pills but from within. This has led to the popularity of two natural materials derived from blood and fat. Stem cells (in fat) and platelets are located throughout the body and can be relatively easily harvested and prepared into an injectable form. This permits them to delivered into almost any body site to create either improved healing or a tissue enhancement effect. This has enabled such autologous injections to be used for a wide variety of medical applications including aesthetic and anti-aging applications.
The use of embryonic stem cells in numerous medical diseases is controversial. But the use of adult stem cells for their potential cosmetic and anti-aging effects is not open to as much criticism as there does not seem currently to be much downside. The debate with their use is whether they can live up to the hype. Numerous anectodal claims are made about such injections as creating youthfulness, adding permanent tissue volume and improving the appearance of the skin. This has led to a number of procedures being touted, particularly on the internet, with such names as stem cell facelifts and stem cell-enriched fat grafts. The names suggests that they are better than the traditional procedures.
But stem cell injections in plastic surgery today are, most of the time, fat injections that undoubtably contain stem cells but in what quantity and what activity is completely unknown. Although not cleared by the FDA for this use, there are machines available that can process fat to get a stem cell concentrate which can be injected. The problem with fat-derived stem cells is no one knows for sure what happens when they are injected or if there are any significant adverse effects long-term from doing so. It is reasonably assured that fat injections are completely harmless and that stem cell injections are similarly so, but that is a long way from being shown to be absolutely so.
Conversely, evidence that stem cell injections have any positive anti-aging effects by themselves has not yet been forthcoming. There is no doubt that the promise of stem cells is great in terms of potential tissue regeneration and some observable anti-aging effects on the skin. But there is very little data from human clinical studies that currently support any of the hype or marketing claims some doctors make. Injecting stem cells under the skin has not been proven to improve the appearance of the overlying skin. (fat injections are more promising based on the volume addition) The clinical results to date are isolated case presentations and subjective observations and substantial research is still needed to figure out the potential of stem cells. Thus for now, stem cell injections like stem cell containing skin serums, must be viewed as suspect.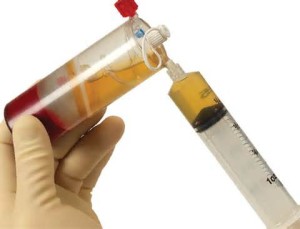 Unlike stem cells, the positive effects of platelets on healing is more established. Wound healing is known to be mediated by a complex array of cellular and protein and peptide interactions. Platelets play a major role in this process. Platelet-rich plasma (PRP) is blood plasma that has a high concentration of platelets due to processing techniques. During the procedure, about 60cc of blood is removed from the patient and and the PRP concentrate is then obtained by a centrifugation process. This creates a few ccs of concentrated platelets (platelet plug) that can be added to a variety of plastic surgery procedures to theoretically improve their results. Due to its platelet contents, PRP contains many different growth factors and cytokines that have potent cellular and tissue stimulation effects.
While PRP can be used alone as an injection, its small quantity (usually about 3ccs) lends itself to be mixed or combined with other materials as part of the injectate. These could include fat or, more commonly, synthetic injectable fillers. There are several commercial aesthetic products which do just that with marketed brand names such as Selphyl and the Vampire Facelift. These products create either a platelet-rich fibrin matrix or are mixed or done right after the placement of such well known fillers as Juvederm and Restylane. The benefits of PRP in these facial rejuvenation techniques, while appealing, has not been fully substantiated in widespread clinical use and ongoing patient treatments continue to evaluate what role concentrated platelets may provide for volume retention and any other anti-aging benefits.
Stem cells and PRP are naturally derived products but that does not necessarily confer that more of them in one spot will be better than what we have residing in our bodies now. Their appeal is undeniable but that has not proven just yet that their benefits are equally so.
Dr. Barry Eppley
Indianapolis, Indiana