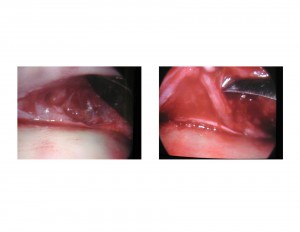 The most common surgical treatment today for sagging brows is the endoscopic browlift. As opposed to browlifts that involve long incisions and remove forehead or scalp tissue to create the lifting effect, the endoscopic technique uses minimal incisions and removes no tissue. It achieves a browlifting effect through a deep subperiosteal brow tissue release and a superior forehead and scalp backward tissue shift.
This relocation of the entire soft tissue of the forehead up and back, known as an epicranial shift, must be initially held in place to create the brow lift. A wide variety of endoscopic browlift fixation methods have been described since this browlifting technique was introduced about twenty years ago. Fixations methods including metal pins, metal screws, transosseous bone tunnels and resorbable grids or platforms. Each of these devices and methods have their advantages and disadvantages and the fact that so many endobrow fixation methods exist indicates that there is no perfect way to do it.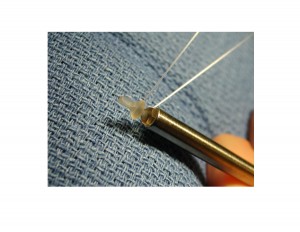 Having used all of these endobrow fixation methods, there is one that I found to be my favorite over the twenty years of performing the procedure. The use of LactoSorb resorbable screws offers a simple and very reliable soft tissue fixation method. This is a low profile 2.0mm screw made out of PLLA-PGA material which is naturally resorbed after 6 months of placement. It is a special resorbable screw that has a hole placed though its head and a pushpin design rather than that of a threaded shaft.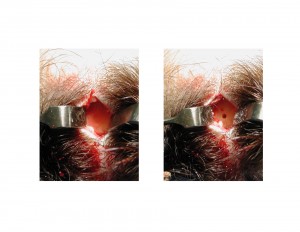 This fixation method issued by initially placing an outer cortical bone hole at the back end of the endo scalp incision. A suture is initially passed through the screwhead and then the screw is pushed into the bone hole. A snug fit allows the introducer for the screw to be removed. With the screw in place holding the suture, the uplifted scalp and forehead tissues are grasped with a bite of the suture and tied down. The overlying scalp incision is then closed.
Between the temporal lines of the skull, LactoSorb Endobrow resorbable screws can be used for central brow fixation. They are slightly palpable for a few months but their profile eventually flattens as they resorb over time. The time needed for natural fixation by healing of the elevated periosteum back down to the bone is reported to be a but a few weeks. So the months of fixation provided by the resorbable screw is more than adequate.
Dr. Barry Eppley
Indianapolis, Indiana