Chin dimples are a not uncommon but anatomically perplexing facial feature. Sitting as a round central depression on the soft tissue chin pad, it serves no functional purpose other than a distinctive facial adornment. Like all facial dimples the cause has been shown to be caused by an underlying muscle deformity, specifically that of the mentalis muscle. Unlike its close cousin, the vertical or Y-shaped chin cleft, there is not an associated underlying bony deformity. Chin dimples and clefts are known to be an inherited trait on a dominant gene with variable penetrance.
The most common treatment to reduce or eliminate a chin dimple is by using an injectable filler. All of the commercially available injectable fillers can be used although their results will not be permanent. The use of silicone oil offers a permanent injection method although it is not FDA-approved for any facial augmentation procedure. Before placing any injectable filler a saline injection test should first be done to ensure that the dimple will be pushed out rather remaining indented and creating a 'doughnut' deformity.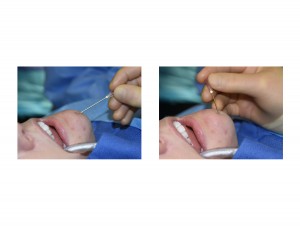 One potentially permanent injection treatment option is that of fat grafting. Since injected fat is far more viscous than any injectable filler and does not have good linear flow, the bed into which it is injected should first be released. This can be done by using an 18 gauge needle placed in the center of the dimple and then rotating it around 360 degrees. The beveled edge of the needle will act like a small scalpel blade releasing the skin from its deeper attachments.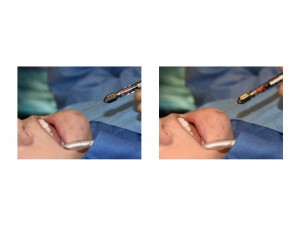 Once the chin dimple is released, a small amount of fat can be injected into the released subcutaneous space. This usually takes anywhere from .2ml to .5ml of concentrated fat. No one can predict with certainty how well injected fat takes so it is possible a second injection treatment may be needed. Three months should be allowed to pass to judge the retained injected fat volume.
There are alternative approaches to treating the chin dimple indentation done through an intraoral approach with muscle repair, but injection fat grafting offers a minimally invasive technique that has a high rate of success.
Dr. Barry Eppley
Indianapolis, Indiana