The labiomental fold is a well known sulcus or depression below the lower lip at the upper end of the soft tissue chin pad. It is a fixed anatomic structure that represents the attachment of the mentalis muscle at the bone level and the depth of the lower lip vestibule intraorally. Because it is a fixed anatomic structure it will be affected by any form of chin augmentation and adversely so (most people see it becoming deeper as a negative) if the amount of horizontal chin movement is significant. (generally meaning more than 5mms)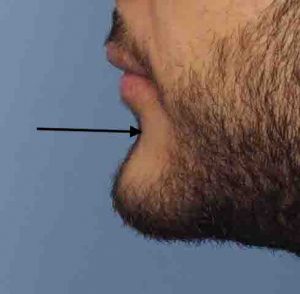 One of the chin augmentation procedures that is particularly prone to making the labiomental fold deeper is the sliding genioplasty. This is because, not only is the chin coming forward, but the shape of the underlying bone has been changed. An unnatural step or indentation is created in the chin which happens to be right under the overlying labiomental fold. While I like to fill this bony step off with allogeneic bone chips at the time of the primary sliding genioplasty not everyone does. This can exacerbate the tendency for labiomental fold deepening if the bone shape is not restored.
When seen secondarily the deepened labiomental fold can be treated by different methods of fat grafting. (of course injectable synthetic fillers can also be used but they will not be permanent) The decision between fat injections and the open placement of a dermal-fat graft depends on the shape and depth of the labiomental fold and its adherence or tightness. Broad concave labiomental fold shapes that are not tight or stuck down will respond well to fat injections. Labiomental folds that have inverted v-shapes that are tight or adherent respond better to intraoral release and the open placement of a solid fat graft.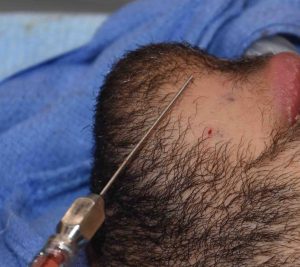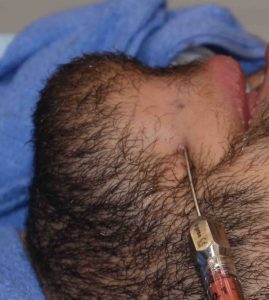 Generally 5 to 7cc of injected fat can adequately bring out a deeper broad-based labiomental fold. (concavity) Using needle sticks blunt-tipped small cannulas are used to inject the fat in small aliquots from each side to evenly bring add the needed soft tissue volume.
The fat is injected between the skin and the mentalis muscle as this most effectively raises up the overlying skin contour. What injectable fat volume survival is not always completely predictable it has a reasonable percent of survival in the chin.
Dr. Barry Eppley
Indianapolis, Indiana