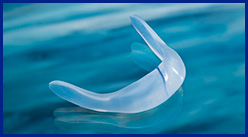 Chin augmentation is most commonly done by placement of a synthetic silicone implant. Chin implants today come in a wide variety of dimensions, historically providing only horizontal projection, but now available in vertical lengthening styles as well. For men chin implants are even available to provide an increase in width, also known as a square chin look, to provide a more masculine chin/jawline appearance.
One other chin feature that is often desired in men is that of a chin cleft. Certain chin implants have a central cleft in them in an effort to create a midline cleft with the chin augmentation. While it looks good on the implant, it does not translate to creating that effect on the outside after implant placement. It simply is not that easy to create a vertical chin as it does not come exclusively from a defect or notch in the bone, contributions also come from a muscular diastasis as well.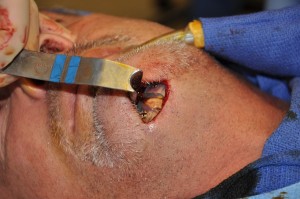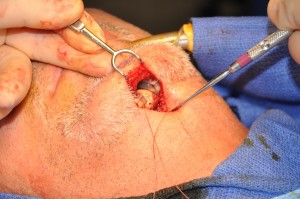 To effectively create a vertical chin cleft at the same time as placing a chin implant, it requires a concerted effort to make it appear. The chin implant is first split down the midline and separated. A 5 to 7mm gap is made between the implant. Because the implant is now in two pieces it is necessary to secure each implant half by screw fixation. Then a bone hole is made through the bottom of the chin in the midline. This allows a permament suture to be placed that is used to pul the mentalis muscle down into the implant gap. A stronger effect can be created by removing some soft tissue under the skin as well before passing the suture. How tight the suture is tied down will impact the degree of cleft creation. The shape of the cleft (its width) is also influenced by the size of the midline implant gap.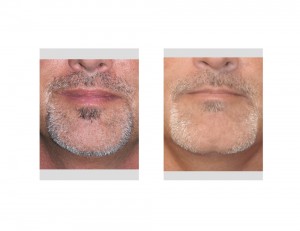 A vertical chin cleft can be done at the same time as a square chin implant augmentation in men. Breaking up the wider square chin with a cleft helps add a visual feature of interest and disrupts a completely flat horizontal line across the bottom of the chin.
Dr. Barry Eppley
Indianapolis, Indiana