Cheekbone reduction by osteotomies is the only surgical method for narrowing a wide face. While most commonly performed on Asian patients all around the world, I have done an equal number on other ethnicities as well. By performing a bone cut through the main body of the cheek (zygoma) and at the back end of the zygomatic arch, the widest part of the cheeks can be moved inward. Its effect comes from taking the most convex part of the zygomatic arch and changing its widest point to a lower inward position. Once the bone is moved inward it is usually stabilized in its new position by some form of metal fixation.
The front cheekbone reduction osteotomy is done from an intraoral incision and thus is scar free. Conversely the posterior zygomatic arch osteotomy is usually done from an external skin incision at the back side of the sideburn (male) or preauricular tuft of hair. (female) While this small incision always heals well in my experience, there are alternatives points of access to it.
One approach to the posterior zygomatic arch osteotomy is through the same intraoral incision as the anterior osteotomy. Sliding an osteotome along the underside of the arch it can be fractured in a blinded fashion. Plate stabilization is not possible. This is not a technique that I have done but I know other surgeons that do it.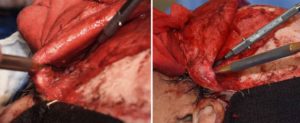 Another approach to the osteotomy its from above, coming underneath the deep temporalis fascia. This could be done if one is concurrently using a coronal scalp incision for other procedures as well. Thin elevators are placed on both the outside and inside of the posterior zygomatic arch just in front of its temporal attachment. An osteotomy is used to make a complete osteotomy through the thin arch bone. It can then be mobilized and pushed inward. Like the intraoral approach plate fixation is not possible.
Dr. Barry Eppley
Indianapolis, Indiana