Hollowing or tear troughs of the lower eyelid are a common aesthetic periorbital concern. Numerous treatment approaches are used ranging from hyaluronic-acid based injectable fillers to the placement of synthetic implants. One autologous approach is the use of a lower eyelid blepharoplasty technique known as fat transposition. By relocating herniated lower eyelid fat into the tear trough area, a volumetric fill is achieved.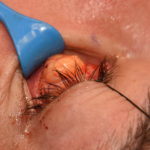 The lower blepharoplasty fat transposition method is a fairly simple technique. The herniated fat is close by and it is easily teased out and moved over the lower orbital rim. Fixing the relocated fat by sutures is done to the surrounding periosteum. An interesting question is whether the fat should be placed above or below the periosteum.
In the May 2011 issue of the journal Facial Plastic and Reconstructive Surgery, an article was published entitled 'Transconjunctival Lower Blepharoplasty With Fat Repositioning: Retrospective Comparison of Transposing Fat to the Subperiosteal vs Supraperiosteal Planes'. Over a two-year period, 40 patients (27 women, 13 men, average age 58 years old) operated on by a single surgeon were retrospectively evaluated of which 20 patients had transconjunctival lower blepharoplasty with fat repositioning to the subperiosteal plane and the other 20 patients to the supraperiosteal plane. The aesthetic results and complications between the two techniques were compared.
They reported that the subperiosteal technique was more meticulous and less disruptive of normal anatomy and resulted in less bleeding. Supraperiosteal fat transposition surgery was faster but lead to more bruising, swelling, and with more evident temporary contour irregularities along the orbital rim. All patients had a high level of satisfaction. No differences were seen in the overall aesthetic results. The paper's authors concluded that transconjunctival lower blepharoplasty with fat repositioning can be performed safely and effectively, whether fat is translocated to the subperiosteal or the supraperiosteal plane. Aesthetic results were similar between the two transposed fat locations.
Filling the tear trough with fat from the lower eyelid is an effective approach that has few complications, particularly without lower eyelid skin manipulation. (transconjunctival approach) While the subperiosteal location is a bit more tedious to perform, it offers better camouflage to the fat and a better place to engage suture fixation.
Dr. Barry Eppley
Indianapolis, Indiana