The use of cartilage grafts is essential in many types of nose surgeries of which Asian rhinoplasty is a prime example. With smaller nasal frameworks and tighter enveloping skin, substantial augmentation efforts are often needed. Cartilage grafts are preferred and rib grafts are the most common autologous harvest site. But not every patient wants a rib graft harvest and not every Asian rhinoplasty needs the volume of a rib graft, particularly secondary or revisional procedures.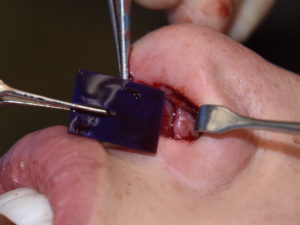 Lower volume septal and ear cartilage grafts can be adequate for some Asian rhinoplasties. But septal volume may be low and ear cartilage is not straight or very strong. Adding a backing to these cartilage grafts or support to act as a graft extender has a useful role given the right synthetic material. PDS or polydioxane is well known implant material that has a long clinical history of human implantation with assured resorption and lack of inflammatory reactions in the process. I have used it as a cartilage suture material in rhinoplasty (5-0 PDS) for decades and it has been available in larger plate forms of variable thicknesses for septoplasty surgery for the last decade..
In the March 2019 issue of the journal Archives of Plastic Surgery an article was published on this topic entitled 'Feasibility of a polydioxanone plate as an adjuvant material in rhinoplasty in Asians'. In this retrospective clinical study the authors report on one hundred and fourteen (114) patient who had polydioxanone (PDS) plates used a structural support in rhinoplasty over a one year period. It was used in a variety of ways including reinforcement of columellar struts and septal L-struts, alar cartilage push-down grafts, fixation of septal extension grafts, and correction of alar contour deformities.
No infections, inflammatory reactions or extrusions of the material occurred in the noses in which they were implanted. Failure of adequate maintained projection of the nasal tip or the short nose occurred in twelve (12) patients. 10.5%)
While PDS plates good support for weak cartilage or the ability to piece smaller cartilage pieces into a more solid construct, consideration needs to be given to what happens when the material loses strength and eventually resorbs. Thus it is not a surprise that when called upon to provide projection support on its own or with inadequate cartilage in the construct there will be some loss of support. But this caveat aside, the lack of even a single case of an inflammatory reaction in the thinner tissues of the nose in this patient series speaks to its excellent biocompatibility in  reinforcement of columellar struts, L- shaped struts, and septal extension grafts.
Dr. Barry Eppley
Indianapolis, Indiana