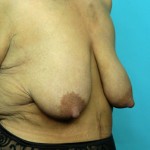 Breast reshaping in the extreme weight loss patient almost always require the combination of an extended breast lift and a breast implant. The loss of breast tissue from the weight loss and the now overstretched skin results in a deflated breast with a significant sag. The nipple lies below the lower breast crease and in many patients it points directly to the floor. Such a misshapen breast requires both volume (breast implant) and a radical skin reshaping. (lift)
While this combination breast reshaping procedure is commonly done, it is not easy to get a good symmetrical breast result. The need for secondary revisions with this approach is not rare. Revision rates may be as high as 25% to 35%. The reason this procedure is difficult from a cosmetic standpoint is that the breast lift and the implant work against each other in achieving their goals.  A breast lift is a skin reduction procedure that lifts and tightens, a breast implant is an expansion procedure that stretchs and lifts. There is no exact science that can tell a plastic surgeon exactly what size implant is needed for how much skin is removed in a lift. It is as much an art as anything else.
One valid approach is to do the breast lift first and defer the placement of the breast implant as a second stage months later. While this staged approach has its advocates, it condemns the patient to two operations 100% of the time. While the combination of a lift and implant may require a significant percent of patients to need two operations due to a revision, the majority of patients (> 50%) will be able to get a satisfactory result in one combined operation.
The primary objective of this form of breast reshaping is to get the nipple lifted and centered on the breast mound. This results in the classic anchor breast scars to achieve it and the blood supply to the nipple is always in jeopardy with the low but real risk of nipple loss. The implant is placed through the same approach as that of the breast lift.
The combination of breast scars, an uplifted nipple position, breast implants, and having two breasts makes achieving  perfect symmetry and shape between the two breasts a difficult proposition in the combined lift/augmentation procedure. Fortunately,  most extreme weight loss patients are quite satisfied with significant improvement in their breasts even when revisional procedures may be needed.
Dr. Barry Eppley
Indianapolis, Indiana