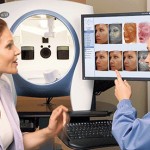 VISIA – A unique complexion profile and the first step to
skin health and vitality
Your complexion is the window through which your image is projected to the world – and now VISIA Complexion Analysis provides the information necessary to truly individualize facial rejuvenation and skin care regimens to match your unique complexion profile.
A VISIA imaging session uses multi-spectral imaging and analysis to capture key visual information for six areas affecting complexion health and appearance: wrinkles, spots, evenness (color variation in the skin tone), porphyrins (evidence of bacteria in the pores), and UV spots (characteristic of photodamage, typically from overexposure to sun). Additionally, VISIA provides an informative comparison of your complexion's characteristics to those of other women of the same age and ethnicity. VISIA generates printed reports, which you can take home, that provides details of your imaging session.
This comprehensive information enables OLOGY to formulate the optimal treatments and regimens that are right for you per our Total Skin Rejuvenation (TSR) program. This program combines cutting-edge laser technology, prescriptive medications, exfoliating and vitamin-based topicals, and microdermabrasion treatments to enhance your skin's health and restore a radiant youthful appearance. This innovative skin care program is safe and effective for patients of all skin colors and ethnicities.
Based on your complexion profile, TSR recommended rejuvenation and skin care options will appear on your VISIA report, and VISIA imaging will continue to be used on a periodic basis as an invaluable aid in monitoring your complexion's vitality and checking the effectiveness of your skin care regimen over time. Your vision of healthier, younger looking, more beautiful skin can be a reality with the help of VISIA and the direction in provides for your customized skin care program.
Dr Barry Eppley
Indianapolis, Indiana