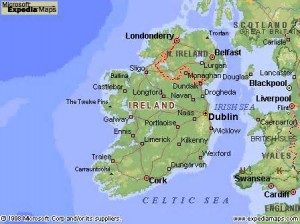 Ireland, technically the Republic of Ireland, is an enchanting island that is in the Atlantic ocean northwest of Great Britain. It covers over 32,000 square miles (or almost 85,000 square kilometers) and is one of the biggest islands in all of Europe. It's history and politics divide the island into 'mainland' Ireland which is about 5/6s of the island and a smaller Northern Ireland which is part of the United Kingdom. It has a total population of about 6.5 million of which close to 2 million live in the much smaller Northern Ireland.
Despite its relatively small population, Ireland has five medical schools. (Dublin (2) , Cork, Limerick and Galway) Training in plastic surgery is done through the oversight of the Irish Association of Plastic Surgeons (IAPS) which is the voice of plastic surgery on the island. It is the only body of plastic surgeons that is recognized by the Royal College of Surgeons in Ireland and the national Medical Council. Its registry lists 32 accredited plastic surgeons with more than half located in Dublin. (Cork and Galway make up the rest) With prerequisite of 2 to 3 years of general surgery training, followed by one year of research, plastic surgery training then encompasses an additional six years.
In Ireland the formal name for a Plastic Surgeon is…Plastic, Reconstructive & Aesthetic Surgeon. As a result, aesthetic procedures are available all over the island at many major hospitals and clinics. Costs of various face and body cosmetic procedures is often only available on enquiry and few plastic surgeons openly advertise their prices and or even provide a general range on their websites. This may reflect adherence to the code of ethics from the Medical Council and endorsed by the Irish Association of Plastic Surgeons. Free consultations are common and costs of breast augmentation  (4900 euro) and mini-facelift (3700 euro) are the few actual procedure prices that could be found.
Dr. Barry Eppley
Indianapolis, Indiana