September 1st, 2016
Background: The long protruding nose is well known in rhinoplasty and has been referred to as the 'Pinocchio Nasal Deformity'. Such a description has been cited in plastic surgery articles all the way back to 1974. More anatomically described as an over projecting nose, it is the result of an elongated cartilaginous framework from the septum and lower alar cartilages. These three cartilage structures merge at the nasal tip making the lower third of the nose look way out of proportion to the nose and face behind it.
The correction of the Pinocchio nose was originally described by a radical tripartite cartilage excision of the nasal tip and the subsequent reduction of the nose above it to fit the new tip position. In essence this means that the the tripod cartilage unit at the end of the nose is resected and set back. This may or may not involve some degree of tip rotation. Once the nasal tip is set back it often becomes evident that there is a nasal hump above the new lowered dorsal line that also needs to be addressed.
While cartilage and bone can be reduced and reshaped, the same can not be said for the skin. What happens to the now excessive skin depends on its natural ability to shrink back down to a smaller underlying supportive cartilage framework. Fortunately in many case of the over projecting nose the skin is thinner and does this fairly well. But thicker nasal skin patients may not have the same soft tissue response.
Case Study: This 43 year-old female presented for rhinoplasty surgery. She had a very long and thin nose that also had significant tip asymmetry due to buckling of the tip cartilages.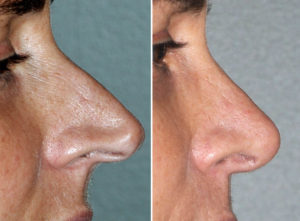 Under general anesthesia and using an open rhinoplasty approach, the caudal end of the septum was resected and the lower alar cartilages shortened by a dome division/resection technique. The septum was straightened and cartilage grafts harvested. The now apparent nasal hump was reduced and middle vault spreader grafts placed.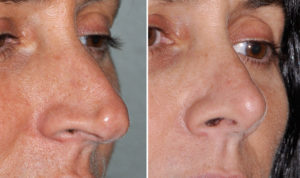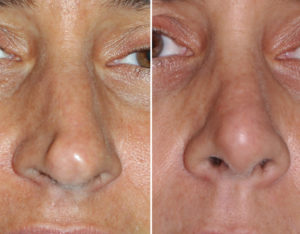 At one year after surgery the dramatic improvement in the appearance of her nose could be appreciated. It is not an ideal result as there remains some residual fullness and asymmetry on the left side of the nasal tip.
The over projecting nose illustrates what happens when the cartilage structure of the nose becomes overgrown. Driven by the midline septum, the growth center of the nose, its elongated development drives the upper and lower alar cartilages with it. This creates the Pinocchio nose
Highlights:
1) The pinocchio nose deformity is the result of an elongated septum and long lower alar cartilages.
2) Shortening the long nose requires cartilage reduction and tip reshaping manuevers to pull the nose back toward the face.
3) How much shortening the nasal tip that can be obtained partially depends on how well the overlying skin shrinks down to the shortened cartilage framework.
Dr. Barry Eppley
Indianapolis, Indiana