February 25th, 2018
Background: As a projecting structure from the side of the head with a funnel-like and flexible attachment, the ear can withstand a wide variety of deforming forces. Its very flexibility protects it from injury when exposed to shearing forces. Like a palm tree in high winds its ability to bend is a protective mechanism.
But when the ear is grabbed by a sharp or compressive force, it is going to tear and suffer a partial loss…or even a total detachment from its base. This occurs in the ear from bite injuries, whether it be from an animal or a human. Loss of portions of the ear from such injuries are well chronicled.
Reconstruction of missing portions of the ear almost always requires a composite technique as both skin and cartilage are needed. The skin is needed to provide an epithelized cover and cartilage is needed to restore framework support for any of its convex or tiered levels. Such methods of ear reconstruction have a long history and date back well into the history of plastic surgery.
Case Study: This young man sustained a human bite injury to his upper ear with loss of a segment of the helical rim. It was well healed and had a combined skin and cartilage defect. The amount of loss could be seen when compared to his opposite normal ear.

A first stage procedures was performed to create more skin for coverage of the helical rim using a postauricular flap technique. This is done by attaching the anterior edge of the ear defect to the postauricular skin.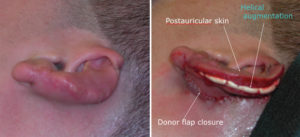 At three weeks after the postauricular skin flat attachment, it was separated from its base to create a roll of helical rim skin. The helical rim cartilage was reconstructed using a piece of rolled ePTFE material which was sutured to the cartilage. The roll of 'new' skin was then used to cover the implant and sutured over it on the back side of the ear.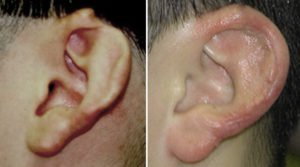 This two-stage well known ear reconstruction method is a very effective technique. While  the skin roll alone is often used to make the helical rim, I prefer to provide support to the skin roll so it does not contract and become distorted. While a thin rib cartilage graft could be used for this purpose, a thin roll of ePTFE material saves a donor site and provides good support without any risk of warping like a rib cartilage graft might.
Highlights:
1) Loss of ear segments usually requires both cartilage and skin replacements.
2) The skin for helical rim reconstruction can be created from a two-stage postauricular skin flap.
3) Helical rim framework reconstruction can be done with a rolled alloplastic material like ePTFE.
Dr. Barry Eppley
Indianapolis, Indiana