There is an inevitable need in rhinoplasty surgery in some patients for augmentation. Whether it is for smaller defect corrections or for an overall major dorsocolumellar increase, volume addition to the nose is not infrequently needed. There is no question that cartilage grafting is the best tolerated form of nasal augmentation with the lowest risk of infection. But they are not perfect and cartilage grafts have their own issues from donor site harvesting, structural and shape constraints and an increased technical skill for their use.
As a result, the use of a variety of implant materials in the nose will always persist. Despite their often negative perception implants do have a role to play in the nose and any clinical series ion substantial volume and follow-up is always worthy of review.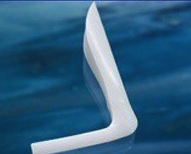 In the April 2017 issue of the journal Aesthetic Plastic Surgery, an article was published entitled 'Soft and Firm Alloplastic Implants in Rhinoplasty: Why, When and How to Use Them: A Review of 311 Cases'. In this paper the authors  report on their experience in over 300 cases of nasal implants. It is important to distinguish what they mean by soft and firm nasal implants. The 'soft' nasal implants they used were synthetic polyester sheets (mersilene mesh) which is used for other surgical applications as its origins. These are sheets of monofilament fibers whose structure permits soft tissue ingrowth. These mesh implants were used in the tip, dorsal and side walls of the nose in varying thicknesses. Such soft implants were used in the majority of their cases. (87%, 269/311) The average implant thicknesses were 1.5mm or less. The firm implants were solid silicone L-shaped nasal implants. The thickness of these implants were 5mms or less. In some cases the tip of the nasal implant was covered by fascia or morselized cartilage. Such firm implants were used in the remainder of their cases. (13%, 42/311)
The infection rate in the soft implants occurred in 6% of cases (15 patients) Revisions for aesthetic purposes was done in 3% of the patients. (7 in number) Conversely no infections occurred with firm silicone implants. Aesthetic revisions were done in 7% of the cases. (3 in number)
The use of implants in the nose, known as alloplastic rhinoplasty, has its share of detractors. For some rhinoplasty surgeons the use of synthetic materials in the nose is never done while other surgeons use them routinely as is the case in this paper. Implants do have their unique set of advantages including volume stability, lack of the need for a donor site, versatility in shaping of the implant and often shorter operative times.
In this paper the authors show a very acceptable and low rate of implant infections as well as the need for revisions. In my opinion this was not due to the implant material but in how it was used. The key to their success is that they did not ask the implants to 'do too much'. The implants usually had low thicknesses even in the solid silicone implant group. While one can get away with a lot of soft tissue stretching or even mucosal perforations with cartilage grafts, implants are much less tolerant of these soft tissue issues. Probably the greatest contribution this paper makes to the rhinoplasty literature is that implants can work fairly well in the nose when judiciously and selectively used.
Dr. Barry Eppley
Indianapolis, Indiana