Background: One of the well known mottos amongst plastic surgeons regarding breast augmentation is that implants merely take what you have and make it bigger. While simplistic, this statement is largely true. Other than mound enlargement and the potential creation of enhanced cleavage from that effect, many of the other breast features remain the same albeit larger.
There is a difference between younger vs. older breast augmentation patients. Younger women who have not had children have breast mounds that are well shaped with good overlying breast tissue. Older women, or younger women that have had children, often have breast mounds that are not well shaped and have stretched out overlying soft tissues. That difference alone can make a big difference in the aesthetic outcome of breast augmentation surgery.
Case Study: This 3o year-old female presented for breast implants. She had small but wide breast bases with well centered nipples on the mound and well defined inframammary creases at the bottom of the mound. In addition she had breast mound swhere the nipples where pointed directly forward and the breasts were almost too close together. (compared to many other women)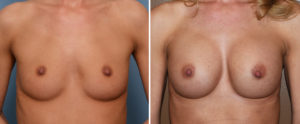 Under general anesthesia and through 3.5 cm inframammary skin incisions, 450cc round high profile silicone gel breast implants were placed in the partial submuscular position.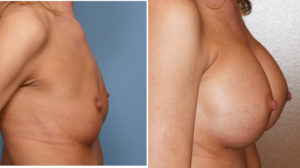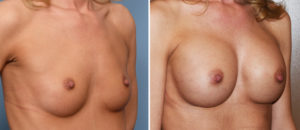 Her breast augmentation results clearly show how the implants made all features of her natural breasts simply bigger. There was no reason to lower her natural inframammary folds which is actually very uncommon in my experience. She already had a good distance between her nipples and inframammary folds despite her small natural breast volume. The naturally close position of her breasts allowed for actual cleavage to be achieved even without a bra.
Highlights:
1) Breast implants take the breast mounds a patient has and merely makes them bigger.
2) Breast implants make cleavage if the breasts are spaced close together naturally.
3) The east-west nipple position after breast augmentation remains exactly the same as it was before surgery.
Dr. Barry Eppley