Background: A stronger and more defined jawline is a frequent aesthetic facial request for both men and women today. While jawline augmentation used to exclusively refer to the chin (front part of the jaw), today a more comprehensive approach is usually done for an entire lower facial effect from the chin back to the jaw angles.
Augmentation of the jawline can be successfully done by a variety of standard preformed chin and jaw angle implants. With almost ten chin implant and three jaw angle implant styles, there are a large number of possible implant combinations to satisfy most patient's aesthetic needs. While putting together these various implants for each patient needs is an art form that requires an understanding of their external facial effects, their surgical placement is more straightforward with much less variability.
But what makes jawline augmentation unique is that it requires three implants to achieve a total lower facial effect. As every single implant has its own inherent risks (infection, malposition and undesired aesthetic effect) this makes such risks three times greater for a total jawline augmentation. Such risks are commonly recognized  for any other paired or bilateral implants (e.g., cheeks, temples) but no other place on the face (or body) has a three-fold implant complication risk.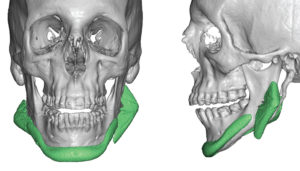 Case Study: This male desired a more defined jawline with a square chin and stronger jaw angles. He had undergone a three implant jawline augmentation with standard chin and jaw angle implants. While he was happy with the chin and right jaw angle implant result, his left jaw angle was asymmetric. A 3D CT scan sows that the asymmetry was caused by malpositon of the left jaw angle implant.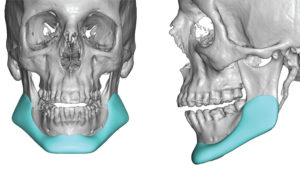 He decided to have a one-piece total jawline implant made based on the dimensions of his existing implants rather than just reposition the left jaw angle implant. This also gave him the opportunity to add a little more width to the chin and some width to the sides of the jawline to the connections between the chin and jaw angles.

Under general anesthesia his existing chin and jaw angle implants were removed through existing submental skin and intraoral vestibular incisions. Through the same incisions the custom jawline implant was inserted and fixed into position.
A custom jawline implant, besides allowing for chosen dimensions before surgery, lessons the risk of malposition that does naturally exists the using three separated and not connected implants along the jawline.
Highlights:
1) A three piece total jawline implant approach has three times the chance of implant malpositions.
2) A custom jawline implant because it is one single implant has a much lower chance of a malposition problem.
3) Having existing standard implants is an enormous aid in designing a custom jawline implant.
Dr. Barry Eppley
Indianapolis, Indiana