Background: The term, cleft lip and palate, refers to a spectrum of congenital clefting conditions that emanate out from the mouth area. In its most common presentation, it  involves both the cleft lip and palate (technically cleft lip-alveolus-nose-palate) but it can also occur as an isolated cleft lip or an isolated cleft palate.
These common orofacial clefts occur in about 1 per 1,000 births but the frequency changes based on race. Asians have roughly twice this number while African-Americans have half this number. These different occurrence rates appear to be due to the forward projection of how the face forms amongst the races as one major contributing factor. Interestingly cleft lip occurs more frequently in males while isolated cleft palate is more common in females.
The surgical treatment of cleft lip and palate is like a golfing event. It will take 18 holes (years) to complete and each hole's score (year of age and surgery) impacts the final game's score. (fully grown result) The first hole is the initial cleft lip repair.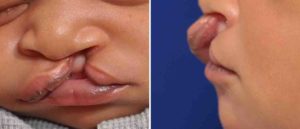 Case Study: This 3 month old male infant was born with a left complete cleft lip and palate deformity. The cleft ran through the lip, base of the nose, alveolus and hard and soft palate. There was no prior history of facial clefts on either side of the parents. He was otherwise healthy.
Left Cleft Lip Repair Dr Barry Eppley Indianapolis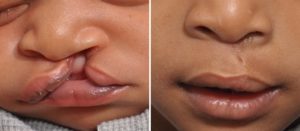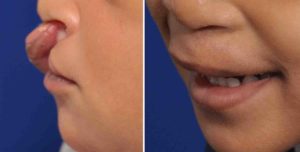 At 4 months of age and at 14 lbs,, a cleft lip and nose repair was done using a rotation-advancement technique under general anesthesia. Continuity of the orbicularis msucle was established as well as rotating the medial lip element down and advancing into alignment the lateral lip element. The slumped lower alar cartilage-nostril was treated by the placement of a small resorbable plate to give it an uplift and support.
He went on to have a cleft palate repair at 9 months of age. When seen at two years of age, he had good alignment of his lip and fullness to the vermilion. His nasal base and nostril shape was reasonable albeit far from perfect. His next surgery would be alveolar bone grafting somewhere between ages 6 to 8 depending on his permanent tooth eruption pattern.
The foundation of the surgical treatment of cleft lip and palate is the initial cleft lip repair. It sets the tone for how the eventual facial result can look but a lot of facial and oral development as well as other surgeries will take place before the 'course' is completed.
Highlights:
Cleft lip and palate is a common congenital facial deformity that isomer than just two facial segments that did not come together.
Primary cleft lip repair is done within 3 to 4 months after birth and often involves some manipulation of the nose as well.
Primary cleft lip and nose repair is never the last corrective procedure performed.
Dr. Barry Eppley
Indianapolis, Indiana